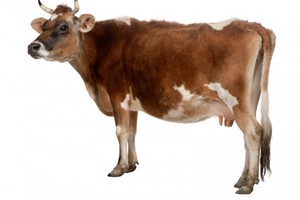 Biodynamics presents a lucrative triple-bottom-line agri opportunity for New Zealand that has health, environmental and economic advantages. All we lack is a collation of farmers, academics and politicians to the grab the cow by the horns and make it happen.
We have lost over 30% of the world's topsoil in the last century and this is having an impact on humanity's ability to grow food. Biodynamics experts call it 'peak soil', and say that climate change and extensive chemical farming is compounding the problem.
Lis Alington, editor, Earth Matters explains: "Imagine the world is an apple. If you chop it into 32 pieces, then just a single one of those pieces represents the total amount of land available for producing food. If you peel the skin of this tiny piece of apple then you're left holding a fragile sliver. It represents the total amount of topsoil from which to feed the entire population of the planet."
Biodynamics was founded in 1924 by Austrian Dr. Rudolf Steiner. As an ecological farming system, it encourages symbiotic relationships between soil, plants and animals to create closed-loop farms that are guided by ecological principles.
This chemical-free farming system literally grows topsoil and assists in the battle against CO2, as 80 per cent of the world's carbon is stored in the soil. Alington confirms that "more than 35 years of continuous trials on cultivated land have shown that, unlike farming based on chemical-fertilisers or even a mix of pastures, livestock and topdressing as is the norm in New Zealand, biodynamic farming practices conserve and rejuvenate the topsoil. In fact the method tends to be better than organic farming, producing at least 25% higher levels of soil carbon."
A 21-year study by the Research Institute of Organic Agriculture (FiBL.org) in Switzerland revealed that biodynamics had the highest rate of nutrients and soil biodiversity compared to conventional farming and even organics.
According to this research biodynamic farms are healthier?and also financially viable. They had 20% less yield but can cost up to 50% less to run and use no pesticides. A 1993 study by the Biodynamic Farming and Gardening Association of New Zealand compared financial performance of biodynamic and conventional farms in New Zealand. The study concluded that the biodynamic farms in the study "had better soil quality than the neighbouring conventional farms and were just as financially viable on a per hectare basis."
The New Zealand agri business opportunity is that biodynamics offers a lucrative export to the German economy which consumes the majority of global biodynamic produce - at a premium.
Alington has a New Zealand Agri science degree and studied biodynamics under the leading professor of soil science, Dr. Herbert Koepf, who was awarded an honorary doctorate for his services in bringing biodynamics into mainstream science. There are now professorial chairs in organic and biodynamic agriculture at universities around the world.
"New Zealand prides itself on being a world leader in agriculture. But where are our fully funded departments exploring the science and application of low-input biological agriculture?" Alington asks.
New Zealander Peter Proctor is a biodynamics expert who has worked in the field for over 60 years. He is the author of the acclaimed biodynamic book Grasp the Nettle and in his seventies went on a mission bringing biodynamics to struggling agricultural communities in India. There are university courses, an entire biodynamic campus and thousands of biodynamic farming enterprises there thanks to his endeavours. His journey in India was captured in the documentary One Man, One Cow, One Planet.
Now in his eighties, Peter is more dedicated than ever: "Its only by practically doing biodynamics that you see the real evidence that it works and I have worked on so many vibrant biodynamic farms around the world that prove it does." Peter is also convinced that biodynamics would reduce New Zealand's farm pollution - protecting our water, improving the fertility of the land and purifying the air.
Human and environmental health is one aspect to the argument but it is the superior taste and quality that is seducing chefs, vinters and cosmetic companies around the world. James Millton, of Millton Vinyeards in Gisborne, is one of the 10 original biodynamic winegrowers on the planet and the only New Zealand member of the world-renowned group of biodynamic winegrowers, Renaissance des Appellations (Return to Terroir). When asked why he uses biodynamics, his reply is simple: "I wanted to produce the best possible wine."
Certification
Demeter is a worldwide biodynamic certification scheme supported by the Bio Dynamic Farming and Agriculture Association of New Zealand.