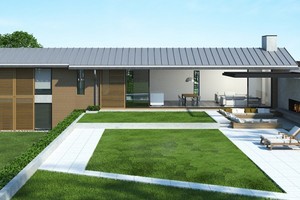 Gaining traction overseas, the Passive House concept is only just beginning here, with the first of its kind nearing completion in Auckland.
Seven months after turning the first sod on their Glendowie section, Philip and Carolyn Ivanier, are now living in their new and very special house.
From the outside it looks like a modern but modest family home. Step inside and you may wonder what they're spending on their power bill to keep it a pleasant 20 degrees on such a cold winter's day.
The answer? About $20 a month - and possibly nothing - if the power generated by the solar panels offsets that needed by the house.
That's because the Ivaniers have just built Australasia's first Certified Passive House, a virtually air-tight, highly insulated abode built to exacting international standards.
The Canadian/American couple moved to New Zealand eight years ago and Carolyn says both she and Philip were unprepared for the quality of Kiwi homes.
"Basically when we came here we were quite surprised by the difficulty of finding a house that was warm and dry," she says.
Having settled in St Heliers, the couple eventually wanted more space and started looking for a new home.
"It was impossible to find something that met our needs," says Philip.
"Even the expensive, new homes had only the fireplace as a heat source and no double glazing. It became obvious to us that if we were going to have a healthy home that met our needs and was environmentally friendly, we needed to start from scratch."
While researching ideas the Ivaniers realised no one had built a Certified Passive House in New Zealand and that was all the challenge engineer Philip needed.
He says introducing a new way of building wasn't simple, especially when it came to obtaining necessary council consents.
"This is new so we spent a lot of time explaining things so we could get the council across the line."
He says work processed smoothly once Auckland Council's urban design champion Ludo Campbell-Reid understood the concept and how the design fits with future priorities for city housing.
Next step was finding a capable builder and the couple says Chris Foley of Luxury Living has done an amazing job. "He and his team took to the challenge and we've built something completely new from the ground up," says Philip.
"Carters have also been a huge help especially with materials and sourcing things that haven't been in the country before."
There are over 20,000 Passive Houses in Europe and an established mathematical modeling system which analyses site data to predict the home's future performance before it is built.
The Ivanier's house meets the exacting standards required for a ??Certified Passive House but they say even following three-quarters of the guidelines would result in a warm, efficient home.
"We've done this for our family but we've also done it to show that this is a good home building method for dry, healthy homes," says Carolyn.
The nurse believes passive housing could improve life for New Zealand families.
"If Housing New Zealand was to build to 70 per cent of the standard, their tenants who perhaps can't afford heating in winter wouldn't have to worry about it and their kids wouldn't end up in hospital with pneumonia."
The house's tiny heating bill will come from running the imported ventilation system that retains 84 per cent of the heat in the house.
In order for the system to be so effective a key criterion of the Passive House is air tightness, says Philip.
"It's measured in air changes per hour or ACH. The average Kiwi house has a reading of 10 ACH. To be passive certified you have to prove that the house has no more than 0.6 ACH."
Achieving this was tricky and took weeks of testing. An infrared camera tracked down tiny air leaks and the house's final reading was an impressive 0.44 ACH.?The Ivaniers say the build was about 10 per cent more expensive than a standard house but put this down to having to source several components from overseas.
"For anyone else wanting to do this it would only be easier from here."
And they love the result. "You walk in and it feels quiet, dry and warm. It feels like you want to stay there. It's very comfortable," says Carolyn.
Passive House origins:
Developed in Germany, the Passive House is an internationally recognised standard for sustainable architecture. Scientific investigation of Passive Houses proves their heating - and cooling - energy consumption is 80 per cent lower than conventional buildings.
Key elements are thermal windows, highly insulated walls, ceiling and floor slab, heat recovery and an air-tight building envelope. A ventilation system draws air from the interior and uses the heat contained in the outgoing air to warm the incoming fresh air.