Seventh generation of Signature 575RF is pretty impressive fisher.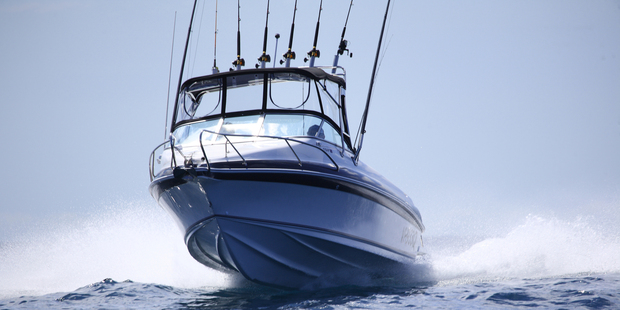 The new Haines Signature 575RF is one of the better Aussie imports, combining good fishing specs and fun family boating
A few years ago, on a media trip to the Gold Coast, my fellow scribes and I were invited to visit a reasonably well-known local boat builder.
To say we were surprised by what we saw would be a significant understatement.
The operation resembled something here from the early 1980s.
There was fibreglass matting covering almost all of the floor, workers with minimal protection wandered around haphazardly and the owner appeared to have been living in a time-warp for the best part of two decades.
With a perfectly straight face, he proudly showed us his company's latest "innovation": a rocket launcher canopy able to fold down flat to get into a low stud garage.
With a restraint I still find remarkable today, none of us burst out laughing or pointed out that such things had been common across the Tasman for a very considerable time.
Instead, we politely bit our collective tongues, thanked the man for his time and made a beeline for the waiting bus (and the nearest bar).
As one can imagine, the visit did not leave a favourable impression of the Australian trailer powerboat industry.
If this yard was anything to go by, Kiwi trailer powerboat builders were 10 or 20 years ahead of their Anzac counterparts and had very little to worry about.
Generally speaking, that still holds true. Although Aussie "big boat" brands (such as Riviera and Maritimo) have a huge presence here, in the trailer powerboat market, it is the local manufacturers who totally dominate.
Nevertheless, there is one Australian brand that has had a strong presence on this side of the Ditch for more than 25 years.
What's more, unlike their previously mentioned colleagues, they have, for quite some time, produced modern boats that are well-made and well performed, and reasonably innovative, too.
Haines Signature boats, which are produced by The Haines Group and coincidently based on Queensland's Gold Coast too, are also manufactured here: under licence, by Christchurch's Reflex Products.
The Haines Group and its predecessors were founded by the well-respected designer and boat builder John Haines. It is currently run by his son, John Haines jnr.
The boats' main point of difference is John Haines' Signature Variable Deadrise Hull (SVDH), first introduced some 30 years ago and constantly modernised and improved since.
In the company's latest release, the new Signature 575RF, it is in its seventh generation.
The 575RF is also the first entirely new model to be released since Haines' death in 2009.
Those familiar with the brand will notice little change.
At first glance, the familiar fine (33 degree deadrise) entry (flaring back to 21 degrees at the transom), the small but distinct keel line plank aft, twin running strakes and wide-ish turned down chines all look pretty standard for a SVDH hull.
However, a closer look reveals a new step or "notch" at the forefoot and a subtle "kick" downwards in the bottom sheet aft (between the outer planing strake and the chine).
The first has been designed to reduce any "sneezing" of spray forward at low speeds, or when rough water forces the hull to cut deeply into surface chop.
The second is designed to reduce any "squatting" of the hull when a lot of power is applied (primarily when going from a displacement speed to a planing one).
As a recent sea test off the Gold Coast Seaway shows, it all seems to work pretty well.
On a test day in conditions best described as "pretty average" (in other words, ideal for boat testing), the 575RF coped exceptionally well.
Helped in no small part by the ample torque of a 175hp Suzuki 4-stroke outboard (the maximum for which the hull is rated) there was virtually no "hump" at all.
The confused chop was also handled with a minimum of fuss; virtually all the copious amounts of spray were thrown far enough away that the breeze couldn't push it back on board.
The 575RF also tracked straight and true, regardless of which way it was pointed relative to the wind and swell.
Which is just as well: the 575RF is marketed as a combination family runabout and small offshore fisher and any relatively small boat heading a way offshore needs to be able to handle the rough stuff.
Combining the needs of those wanting a serious little fisher and those wanting to do relaxed family boating is also a challenge and again the designers seem to have got it right.
With a cabin that is really just a cuddy for dry stowage, they have gone for a walkthrough screen and foredeck, making it remarkably easy to anchor or tie up without having to go either around or over the screen.
That said, the "bunks" in the cuddy are all padded and there is even an insert (and under that an optional portable loo) so it will provide a comfortable place to shelter, especially for smaller children.
Seating is via a brace of pedestal seats plus a foldaway transom bench seat for when in "family" mode.
As a serious fishing boat, the 575RF is pretty impressive.
The cockpit is about as large and uncluttered as one could expect from a 5.7m LOA runabout.
There is a 180 litre fish/stowage compartment under the floor between the helm and passenger seats and, thanks to the foam-filled hull, it works well as an icebox when needed.
The cockpit sides have all been designed to allow fishers to dig their toes under, there is excellent support for upper legs against the padded upholstery and the cockpit sole has an easy-to-clean moulded anti-slip texture.
Haines Group market the 575RF with a lot of extras as standard.
These include hydraulic steering (a must with motors in this power bracket), a wiring harness including a battery isolator system, navigation lights, a bilge pump and a 220-litre fuel tank.
Options for those wanting to up-spec include a very clever transom workbench, a beautifully engineered bimini top/rocket launcher, a set of clears to weatherproof the helm area and various accessories such as electronics, trim tabs, recessed cockpit lighting, fluoro lighting for the helm, a portable toilet and a two-tone colour scheme.
With the boat in its standard format, prices start at around $80,000. But add in all the extras (as was the case with the test boat, a company demonstrator) and that can easily mushroom to close to $110,000.


Haines Signature 575RF
• LOA 5.70m
• Beam 2.38m
• Deadrise 21-33 deg Variable
• Construction GRP
• Trailerable weight (dry)1900kg
• Engine Suzuki DF175
• Engine capacity 115-175hp
• Fuel capacity 220 litres
• Pixs Haines 1-4


Want to know more?
Check out the comprehensive boat test on the Haines Signature 575RF in the March/April issue of Pacific Powerboat magazine or at www.pacificpowerboat.com.