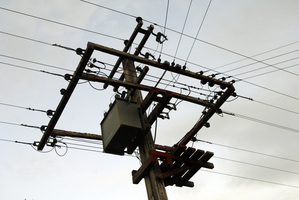 A Far North man has died after climbing a power pole to an 11,000 Volt transformer.
The incident, around 7.20pm on Sunday night, also left his girlfriend with burns after she tried to pull him down. Power was cut to 32 North Hokianga households but is expected to be restored later today.
Emergency services responded to what they initially thought was a car crash on West Coast Rd near Motukaraka, just west of Kohukohu. When they arrived they discovered a young man had climbed a power pole and been electrocuted.
It is understood he had been driving with his girlfriend when the pair had an argument. He stopped the car and climbed a double power pole to a raised platform housing a transformer.
Police, St John Ambulance and firefighters from Kohukohu and Kaitaia brigades responded, stopping traffic and keeping people away until lines company Top Energy was able to disconnect the power.
Volunteer firefighters removed the man's body about 11pm while a kaumatua blessed the scene.
Top Energy chief executive Russell Shaw confirmed that the man died after climbing the pole and touching live high-voltage conductors.
"Our condolences and thoughts during this terrible time go to the family of the person who died," he said.
The company's first priority was to work with police and firefighters to make the scene safe. It would continue to help police and Energy Safety, a government safety regulator, with their enquiries.
Police were expected to hand the site back to Top Energy last night and replacement equipment was due to arrive today.
Mr Shaw said Top Energy would conduct its own internal investigation.
Fire Service volunteer support officer Colin Kitchen said the incident was " traumatic" for firefighters and bystanders.
The volunteers were trained to deal with distressing situations.
Where to get help
• Youth services: (06) 3555 906
• Youthline: 0800 376 633
• Kidsline: 0800 543 754 (4pm to 6pm weekdays)
• Whatsup: 0800 942 8787 (noon to midnight)
• The Word
• Depression helpline: 0800 111 757 (24-hour service)
• Rainbow Youth: (09) 376 4155
If it is an emergency and you feel like you or someone else is at risk, call 111.
For more articles from this region, go to Northern Advocate