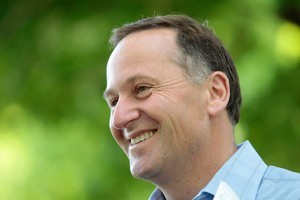 Election 2005. Lovelorn David Turnock flew a small plane in circles around the Sky Tower then crash-landed it in the harbour.
He walked away with only a few bruises and is now back working for an aviation company.
"I'm doing well," he said this weekend.
Election 2011. John Key flew his election campaign around in circles before crash-landing it into a cup of tea.
He walked away with barely a bruise and is now looking forward to another term as Prime Minister.
It is fair to say the Prime Minister made some ugly blunders in this election campaign - foremost among them, unthinkingly insulting the families of teenage suicide victims and suggesting the police were twiddling their thumbs and had nothing to do with their time.
No longer, it seemed, was he the warm, smiling sweetheart of the nation who was elected to government.
The relationship has taken some hits. But tough times can make or break a relationship - and they may have been the making of this one.
By late last night National Party support had grown to 48 per cent - three points up on the last election.
With Act's John Banks, United Future's Peter Dunne and the Maori Party, John Key is more secure than ever.
Now, the challenge for Key.
He must avoid the complacency about his relationship with the New Zealand public that characterised the early parts of the campaign.
He must also resist the fear and loathing displayed in his eyes in the final fortnight as he did battle with Phil Goff and, as he saw it, the media.
He is better than that.
Election campaigns are torrid times, but now the love tiff is over.
It's time to rebuild; to make the sort of change that will cement his place in our history.