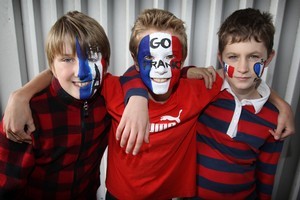 Campbells Bay School has adopted every Rugby World Cup team, and its children won't let a visitor through without knowing it.
"Would you like to know about Namibia's tribes?" asked Adam Wiener, 11.
"The capital is quite Westernised and there are lots of people. But there are some very traditional tribes in the extreme northeast. They make special oils to keep their hair nice and creamed," he explained, pointing the Herald to his poster.
A pair of girls in kimonos with whitened faces approached.
"Would you like to learn about Japan?"
The primary school on Auckland's North Shore has taken the official Rugby World Cup educational programme and pushed it across the whole campus.
"We've got rugby fever," its front gates announced, as the school invited tournament boss Martin Snedden to have a look around.
"Four different organisations created booklets to send to every kid in New Zealand - we made 480,000 of them - to help teachers and grab hold of them," Snedden said.
"I look at this, and it's what you would always hope for but could never take for granted that it would happen.
"It would be hard to find a better example than what this school has done."
An expo in the school's hall showed off the children's term-long projects.
There were mock video news reports from Romania, students performing Fijian dances and food from all the cultures.
"Listen to the noise. This is learning. They're having fun and they're excited. They've captured what the adult population has captured, but in their learning," Snedden said.
Deputy principal Duncan Millward said the programme had helped to build cultural awareness among the children.
"I would say we've taken it to a different level. The Rugby World Cup booklet was a great starter for us and gave us great ideas, but the classes just took ownership of the cultures and went above and beyond," he said.
"We've started planning for next term and we're saying, 'How do we top this?'."