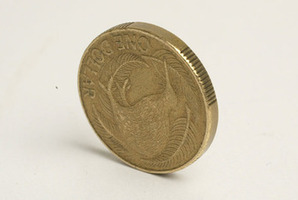 The New Zealand dollar fell as Italy's political impasses and the start of spending cuts in the US sapped risk appetite and drove up demand for the greenback.
The kiwi fell to 82.28 US cents from 82.42 cents in New York on Friday. The trade-weighted index slipped to 75.71 from 75.85.
The White House and the Congress were unable to reach compromise to prevent US$85 billion of spending cuts kicking in this month, which President Barack Obama said had the potential to wipe out jobs and slow the world's biggest economy. European leaders are due to meet tomorrow and have called for the continuation of austerity measures amid signs Italy may return to the polls after its inconclusive elections.
"The NZD fell victim to rising global risk aversion and speculative selling last week," Mike Jones, strategist at Bank of New Zealand, said in a report. "The 'safe-haven' allure of the USD saw the greenback post solid gains against all of the major currencies."
The kiwi slipped to 80.66 Australian cents from 80.80 cents and fell to 77.01 yen from 77.22 yen. The local currency slipped to 54.67 British pence from 54.82 pence and edged down to 63.22 euro cents from 63.34 cents.