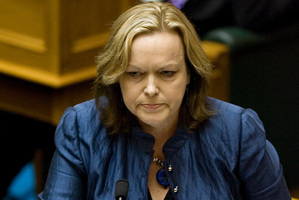 The Government's decision not to extend the Official Information Act to Parliament is "entirely specious", a former Prime Minister and president of the Law Commission says.
Sir Geoffrey Palmer said changes to the legislation announced this week were driven more by MPs' self-interest than enhancing transparency to the public.
He was particularly critical of the decision to exclude parliamentary business from the Official Information Act (OIA), which went against a recommendation by the Law Commission.
"The argument that the OIA should not apply to the offices of Parliament, to Parliamentary Counsel Office, the Office of the Clerk, Parliamentary Speaker of the House, seemed to me entirely specious," Sir Geoffrey said.
"They are public offices carrying out public functions. The act applies to most other public agencies and there is no reason at all why it shouldn't apply to these."
He said the Government's argument that wholesale reforms were not a priority in a tough economic climate was a "smokescreen".
"The reason why Parliament has never been included is that MPs don't want it ... One has to remember that the Official Information Act, in my experience, is about as popular with ministers as pork in a synagogue."
In announcing the proposals on Monday, Justice Minister Judith Collins said New Zealand had an open government by international standards and Parliament already made a great deal of information available.
She told the Herald yesterday: "While it may be tempting for a Government to have access to Opposition parties' research and funding data, extending the OIA to include the offices of Parliament would see Opposition parties unnecessarily scrutinised."
The minister said it was important to strike a balance between access to information and the proper functioning of Parliament, and parliamentary estimates and financial review processes already provided an "appropriate" level of transparency.
Opposition parties were split on whether scrutiny of Parliament should increase.
The Green Party supported the proposal to extend the OIA to parliamentary business, but the Labour Party did not.
Labour's open government spokeswoman, Clare Curran, said her party instead supported proactive release of documents to a dedicated website.
She said making Parliament subject to the act could impinge on MPs and officials' ability to do their jobs effectively.
Sir Geoffrey contested this argument, saying that there were already safeguards in the act which protected some parliamentary business, such as MPs' meetings with constituents.
At present, ministers are subject to the act but MPs' expense claims cannot be obtained by OIA requests.
The Law Commission said that individual MPs should not be subject to the act because it was important that they could pursue their activities free from harassment or pressure.
Information changes
Adopted
* Official Information Act extended to cover courts' administration.
* Improving Ombudsman's guidelines.
* New commercial protection to ensure companies' financial interest are not undermined.
Shelved
* Creation of new legislation which combines Official Information Act and Local Government Official Information and Meetings Act.
* Establishment of an oversight office or Information Commissioner.
* Extension of OIA to cover parliamentary business.