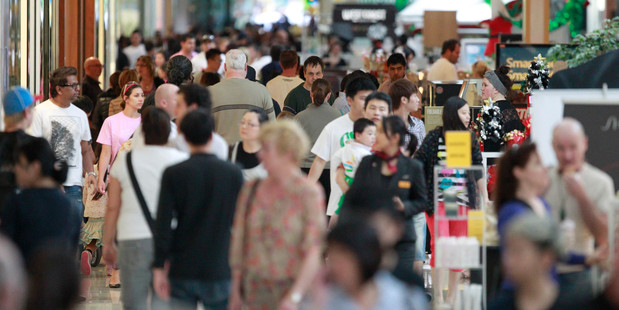 According to 18th century economic philosopher Thomas Malthus, the constant effort towards population growth will be the end of us all.
As our land fills up with yet more consumers, the pie will necessarily be cut into smaller and smaller slices until nothing remains.
Though widely believed in the early 19th century, this line of argument has been widely discredited as one of the great economic misconceptions of the past 200 years.
Contrary to Malthus' assertion, population density and the rise of cities have generated considerable income dividends.
When cities double in size, economic productivity increases by between 3 and 6 per cent.
Density creates deeper labour markets, greater specialisation and improved productive capacity, which in turn means more numerous and higher-paying jobs.
In 1935, New Zealand's five main centres were all within 150,000 of one another in population.
Since then, however, only one city has grown with any gusto; and only one city is expected to grow in any meaningful way over the next 20 years.
Auckland topped 1.5 million people last year and has accounted for 49 per cent of all population growth in New Zealand's main centres over the past 75 years.
Auckland's growth prospects remain strong for three main reasons.
First, Auckland is home to a higher proportion of high-value service sectors operating in niche areas that we are competitive in.
Agriculture may be the jewel in New Zealand's crown, but there is only so much land - so diversifying away from farming as we grow will be important.
Second, Auckland has the largest concentration of educational infrastructure in New Zealand. Quality educational institutions ensure a steady supply of skilled labour for growing businesses.
Third, Auckland is the destination for a high proportion of international investment. Approximately 41 per cent of all New Zealand's foreign direct investment goes there, while 76 per cent of business visitors arrive in Auckland and a quarter of all Aucklanders work for foreign-owned firms.
None of this should imply that the growth of Auckland is guaranteed.
Cities have to fight for success and there are numerous examples of once-burgeoning cities which now languish in the modern world.
Perhaps the best example is Detroit, which lost 58 per cent of its population between 1950 and 2008.
Six of the largest 16 cities in the United States in 1950 have lost around half their population since then.
In Europe, Liverpool, Rotterdam and Glasgow are all much smaller. Cities have to compete for survival and not all will flourish.
New Zealand's convoluted policy on population growth is worrying in this context.
For instance, current immigration policy actually penalises migrants for choosing to locate in Auckland - a particularly puzzling policy given that the city has a well-publicised skill shortage.
Moreover, newly proposed legislation amending the Local Government Act attempts to limit debt levels for local government - a prudent move for stagnant centres but a likely handbrake on economic growth for an expanding Auckland.
Debt is, after all, an important mechanism to spread infrastructure costs over future generations, making it a critical tool for a growing city.
Auckland Council's development of the Unitary Plan will also be critical in this context.
Well-developed land use regulations can be strong enablers of population growth while poorly developed regulations can be stifling.
A proposed amendment to the Resource Management Act will require more rigorous cost benefit analysis to ensure questions of growth and economic efficiency are dealt with head-on in the planning process - a welcome addition.
A report by the United Nations on population policies shows that 47 per cent of developed countries considered their population growth too low and 45 per cent have policies directly aimed at raising population growth.
Meanwhile, New Zealand has no co-ordinated and well understood population policy.
Instead, we have a spaghetti bowl of policies pulling us in different directions and a high proportion of businesses saying they don't have the labour they need.
This leaves Auckland somewhat disjointed in competing with urban giants such as Singapore, Beijing, Hong Kong, Sydney and Melbourne.
As suggested by the New Zealand Institute of Economic Research last year, now would be a good time to develop a co-ordinated national population policy which reinforces the potential growth of our largest city.
This would provide certainty to business and reinforce capital investment programmes. Although always contentious, population policies are common internationally.
Other countries have strategies to try to gain access to our youngest and brightest. We need to do the same if we are to compete.
With over 2500 Aucklanders leaving every month, such a co-ordinated policy can't come soon enough for New Zealand's largest city.
• To read Auckland Council's second Auckland Economic Quarterly, and to subscribe to future editions, click here (released between 1-2pm).

Geoff Cooper is Auckland Council's chief economist.