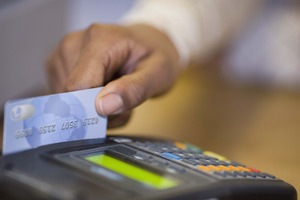 Retail spending charged to electronic cards rose 0.5 per cent last month, seasonally adjusted, on top of a 0.4 per cent increase in October.
Excluding petrol stations and car yards, spending was up 1 per cent, its strongest increase since April.
Westpac economist Michael Gordon said it added to the list of indicators that the economy's September quarter slowdown would prove short-lived.
Transactions charged to debit, credit or charge cards represent about two-thirds of retail spending.
Firms selling household durables and in the hospitality sector each recorded a $16 million increase in sales, representing increases of 1.6 and 2.6 per cent respectively.
ASB economist Daniel Smith said card spending on durables had been particularly strong this year, which was likely to be a symptom of increased housing market activity.
"When people purchase a house they will often buy new furniture and appliances for it."
Overall, card spending on durables was 5.2 per cent higher in November than in the same month a year ago.
Spending on transport fuels fell 0.8 per cent last month, in line with slightly lower petrol prices over the month, Smith said.
However, compared with November last year fuel spending is up 10.5 per cent.
Infometrics economist Matt Nolan said households were increasing spending on new houses and durable products, but remained reluctant to take on debt.
"As a result, they are funding durable spending by cutting back spending on other non-essentials," Nolan said.
"We expect households to remain cautious with their spending until the outlook for growth improves."