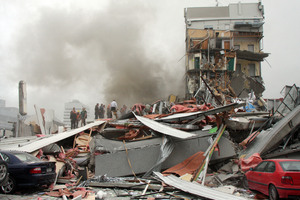 Little old fashioned brown shoes - that was all Linda Burrowes could remember clearly about the "wee dot" of a girl when police asked her to describe what she was wearing when the CTV building crumbled on her.
It is not surprising considering Linda only knew Emi Murakami for three days before the earthquake claimed the life of the 19-year-old Japanese student.
But that doesn't stop her feeling guilty.
"They asked me to describe what she was wearing and I really had to rack my brains. I felt so bad, you know? But I remember those little old fashioned brown shoes with little heels on them," she said.
Emi was one of 81 students and staff killed at the King's Education language school in the CTV building on February 22, 2011.
The devastating 6.3 earthquake killed 185 people.
Now, three months shy of the third anniversary of the tragedy, Linda and her partner Steven Tubb have just returned from a very special journey to Emi's grave in the city of Nanto, on Japan's west coast.
"She really is in the most beautiful place. She is on top of a hill in a very peaceful countryside area with other members of her family," said Linda.
Emi's mother Reika Murakami, held hands with Linda as they placed wild flowers on either side of her headstone.
"And wouldn't you believe it - a butterfly landed on the wildflowers which we had put on either side of her grave. Her mum looked at me and we both said: Emi," said Linda.
Linda and Steven spent two days with Reika and her family last month and were treated as very special visitors - something which Linda found difficult.
"I felt guilty thinking we really don't deserve this - but I try to remember that it was the earthquake that did this," said Linda.
It was Emi's first trip out of Japan to learn English at King's Education. She was to have lived with Linda and Steven for three weeks in their Northcote home.
Linda picked her up from the doomed CTV building on the Saturday before the earthquake.
Emi asked about the earthquake damage to a nearby church (from the September 4, 2010 quake) and Linda assured her the "big one" had been and gone.
"She was just a wee thing, very shy and quite nervous. She was very nervous about earthquakes," said Linda.
Emi took the bus to school the day she died.
"And that's the last time I saw her. With her little map in her hand, smiling as she waved to me from the driveway," said Linda.
When the earthquake struck at 1.51pm Linda was at her house in Northcote. She was frantically trying to contact her son who was in the central city and Emi.
"Of course we had no idea what it was like in the city because there was no power," said Linda.
Her son rang and asked: "Mum what school was your student at?"
"I told him and the line went very quiet. He said 'mum that building has come down'. My heart absolutely sank," said Linda.
She rang Emi's cellphone and left several messages for her.
"I said: 'Emi, Emi, please ring us back, wherever you are we will come and get you. Don't be scared we are here'."
By Wednesday the cellphone no longer rang and went straight to her answer phone service.
The police told Linda and Steven to list Emi as a missing person.
On Thursday, Linda received a phone call which told her hope was lost.
"Someone, either from the police or the Japanese consulate I can't remember now, I was in complete shock, told me to pack up her belongings and someone would pick them up."
The following day a group of six people came down her driveway. At the very back was a "tiny wee woman".
"And I knew straight away it was her mother - she looked like her. I thought, 'Oh no I don't think I can deal with this'," said Linda.
"But Reika threw her arms around me and I just sobbed. She didn't however she was so stoic. She later told us she never wanted us to see her cry."
Through the translator, Reika asked if she could sit in the bedroom where her daughter had spent the last three nights of her life. Linda showed her to the room and left her quietly sitting on the bed.
Ten days later, Emi's body was found.
"I was told she was almost untouched apart from a small bump on her head," said Linda.
Reika returned to Christchurch to take her daughter home and put her to rest on the hill in the countryside.
Before she left she pressed into Linda's hand the key which Emi had been given to the front door. It, along with Emi's diary, had been recovered from her school bag.
"I just can't get over how much the key ring still reeked of smoke," said Linda.
Reika, through the interpreter, asked Linda and Steven to visit Japan and to keep in touch with her which they did.
"Out of this terrible tragedy we have now have lovely friends in Reika and her family," said Linda.
Linda says she still thinks everyday about the "wee girl" who she only knew for three days.
The room has been redecorated since Emi's death and international students still stay there.
"We tell them about Emi and they are okay about staying in her room," she said.
"I walk past her room and think how surreal it was that there was a little girl who lived with us for three days and died."