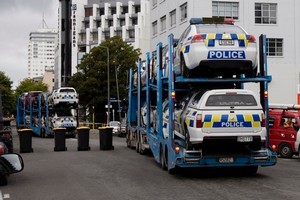 Midwives are being sought in Christchurch as the number of premature births rises in the wake of Tuesday's earthquake.
Medical services in the Christchurch area continue to be put under pressure, with 293 inpatients in Christchurch Hospital, 10 of whom are in intensive care.
Thousands of outpatient clinics and scheduled operations have been cancelled and about 120 patients had been shifted out of the region to other hospitals.
Canterbury District Health Board (CDHB) chief executive David Meates said the emergency department of Christchurch Hospital had been quiet over the past 36 hours but there had been some pressure dealing with births.
"Earthquakes do tend to hurry things along for those intending to deliver," Meates told a media conference today.
"We will be seeing some further assistance from midwifery support over the next period of time."
Midwives interested in helping are asked to email CDHB.
An Australian army field community medical centre set up at Cowles Stadium opened at 8am.
Australian clinicians will staff the 75-bed facility, with six emergency department doctors, 13 nurses, general surgery staff, orthopaedic staff, general trauma, anaesthetists and support staff.
"A number of GP practices in that area have been damaged and/or closed, so that enables us to provide a primary care response in that area for that community," Meates said.
Orthopaedic teams from Wellington had arrived in the city, and another from Auckland was to arrive next week. A cardiologist team from Auckland was on the way.
Despite the pressure on services the earthquake had brought, Meates said anyone with health concerns needed to contact medical services.
"It's important for people not to be sitting at home unwell," he said.
"If they need to access health services, they need to access health services, and that's a really important message to continue to keep out of there in the community.
Anyone looking for an injured family member at hospital is asked to head to the Great Escape Cafe in the main foyer, where a relative centre had been set up.
About 180 rest home residents had been relocated from Christchurch, with a further 75 expected to be relocated today.
Meates said the focus at aged care facilities was to ensure sanitary conditions were up to scratch.
Free GP care was extended until Sunday, and the $3 prescription fees were waived until then as well.
- NZPA