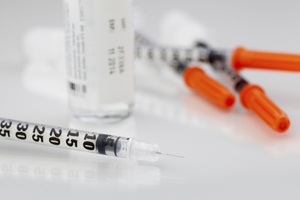 A diabetic Rodney man's insulin supply was put at risk as his family spent a second day without power because of this week's storm.
Aaron Bedford, who lives in Kaukapakapa in Rodney district, needs to keep his insulin refrigerated, but his home was without electricity and hot water since from 6pm on Tuesday evening to 2pm today.
"We've let Vector know repeatedly, they've just said make alternative arrangements," his wife Suzanne said.
"I don't know quite what that would be. None of our neighbours have got power either, and our closest family lives in Wellington, so that's not very practical."
Mr Bedford's insulin comes in a three-month supply, which needed to be kept between 2C-8C.
During the outage the family - which includes the couple's 15-and 11-year-old children - were keeping the fridge closed, in an attempt to maintain a low temperature.
He also kept his daily supply in a cool bag to take to work with him.
They were going to seek a pharmacist's advice on whether the remaining insulin would be safe to use.
Mr Bedford was diagnosed with diabetes four months ago, and the couple had not been aware they could register his medical condition with their electricity company to ensure the home was given priority in a power cut until recently, she said.
She had now been in touch with Mercury Energy, which said he could be put on the register for future reference.
A spokeswoman for Vector said crews had been out at Kaukapakapa, working day and night, since Tuesday. There was more than one fault in the area, and the crews were making their way "methodically" through each section where lines were down to restore power and fix the faults, she said.
"The only time the guys were not working was when the winds got up too high and there was a safety issue, so they've been there the whole time."
The company had been proactive in warning medically dependent customers to make alternative arrangements, she said, because "during storms you can't guarantee power supply ... particularly in rural areas"
- APNZ