Meg Liptrot takes pity on plants that hanker after shade and a drink.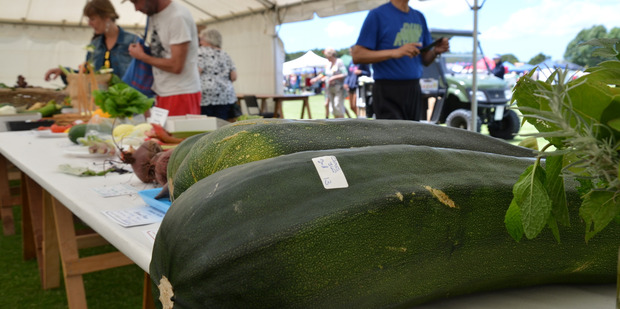 We might not be as hot as poor poet Dylan Thomas in his famous letter from Italy: "My tongue ... is hot as a camel-saddle sandily mounted by baked Bedouins. My eyes like over-ripe tomatoes strain at the sweating glass of a Saharan hothouse", but it is still hot and our baked gardens are feeling it.
Lawns are cracking and the occasional shower does nothing to satiate the thirst of the bone-dry ground. Many summer flowers and fruiting plants are past their best and starting to bleach in the sun.
Even forecast rain has largely passed us by. I've often thought February is the best time for holidays, yet we struggle back to work and are flagging by early afternoon. There is enjoyment to be had, mind you, wandering out to the garden after a long day and giving parched plants a drench, then taking in the air-conditioned cool that comes with that task.
Midsummer sowing
There is ample time to sow fresh crops of salad greens at this time of year. The soil is hot, which means fast germination of seed.
As long as you water the patch of friable earth thoroughly in advance, the seeds will have a good shot at germinating and not drying out. Screen from the hot sun with shade cloth, or choose a spot on the south side of taller plants to ensure your new babies are well protected.
Alternatively, group a collection of medium-size pots together close to the kitchen for easy access, and sow a range of leafy greens for "cut and come-again" salad leaves. Ensure you water regularly as, in this heat, new seedlings will fry.
Beyond the usual mesclun salad mix, try sowing beetroot densely and use the ruby-coloured leaves to spruce up salads. Also give carrots a go in a broad pot, sowing more thickly than usual. Harvest baby carrots, thinning as you go to give others more room to grow. They are delicious and sweet as a gourmet-style side to your dinner and tempting for the kids, too.
Start sowing autumn and winter vegetables such as cabbage, broccoli and leeks in trays under cover. Prep soil with lime and a good helping of compost or bokashi in anticipation of your winter crops.
Liquid feeds
Now is perfect to restore the vigour of your garden by watering your plants with diluted organic fertiliser. You can water weak foliar tea directly on to leafy greens to give them a boost - early in the morning or in the cool evening, if it is another scorcher of a day.
Make use of the wonders of liquid seaweed as a mineral tonic for the garden, to improve soil health and water retention. Use as a foliar spray to help reduce fungal problems in flower gardens and on established veges showing signs of powdery mildew. The curcubit family are particularly susceptible to this annoying and inevitable late-summer fungus. Courgettes, cucumber, pumpkin and melons often show the first signs of this in midsummer.
Try the milk cure on mildew-affected plants: one part milk to 10 parts water and spray thoroughly.
Feed the soil around fruiting plants with potassium-rich brews to support them in this bounteous phase. Comfrey tea is particularly useful here, or choose a fish and seaweed-based liquid concentrate from the garden centre. If you have a worm bin, pour extra water through your system and make use of the rich "black gold" that results. Dilute to a tea colour if you're using directly on foliage, or leave a little darker if watering the soil directly.
Blight-on
On the subject of fungal issues, blight can be a problem for tomatoes and potatoes, particularly in humid areas. Refrain from watering foliage, and don't water too often.
Keep good airflow around tomatoes by removing lower leaves from plants and keep weeded. Remember to de-lateral your tomatoes by plucking out new shoots at the leaf junctures of the main stem. It is best to water these plants deeply, but less regularly in the morning to reduce evening humidity. If your tomato plants have succumbed, harvest the last of the edible fruit. Don't compost affected plants. Instead, put them in a garden bin to be dealt with offsite. If you have room, dispose by burying them a spade depth down well away from your vege garden.
Remember to avoid planting related species like tomato and potato in the same plot for several years. Later on, sowing mustard as a green manure crop over winter will help fumigate the soil. Mustard (a brassica) has been proven to suppress nematodes and fungal pathogens in soil. Alternatively, grow other brassicas such as broccoli, cabbage and kale.
Garden heroes
Is all this sounding like too much work in the heat? Ditch the garden and head out to the Heroic Gardens Festival next weekend, February 22-23. The 21 gardens across Auckland in this much-loved festival are sure to delight. Explore the cool shade of Titirangi gardens, check out urban subtropical oases or take in the country air of Whitford. Tickets cost $40 and help Mercy Hospice funds.
For tickets and information see www.heroicgardens.org.nz.