Ben Crawford finds the design of the new Christchurch Cathedral lives up to the hype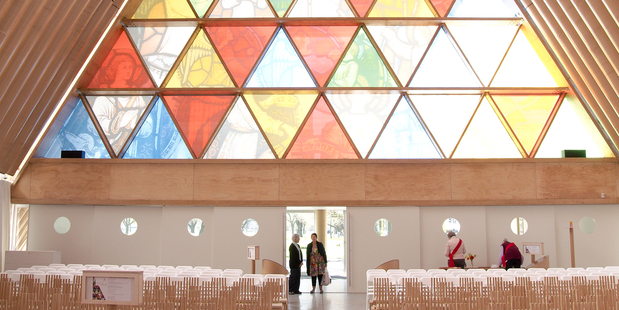 Christchurch's innovative Cardboard Cathedral resembles a huge fin from afar and features a stunning triangular stained glass window. Photo / Ben Crawford
Sitting in the Christchurch Cathedral during my boarding school days, the last thing on my mind was the magnificence of the building we were in. As a typical teenage boy who wasn't particularly enthused with Psalm 23 or The Lord's Prayer, I was more concerned about how much longer I had to spend in my itchy suit and whether we'd be having pies or lasagna for dinner.
It took the horrific earthquakes that destroyed the cathedral for me to realise what a stunning structure it was. In fact, those images of destruction from across the region reinforced how beautiful the city was and how sad so much was lost.
But with loss comes opportunity. A unique opportunity to reinvent a city that will be envied around the world. The first building to garner global recognition has been the Cardboard Cathedral when it opened in August. I visited this fascinating structure last week because I find the idea of using cardboard in construction utterly intriguing.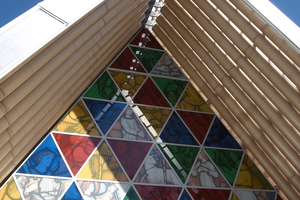 Driving down Madras St past barren sections where buildings once stood, a remarkable sight appeared through the trees at the far end of Latimer Square. From afar, it resembles a huge fin.
Giant white sides run from the razor-sharp peak of the roof, past huge triangular stained glass windows to a flared base, issuing a welcoming invitation through the front door and into the nave.
The space is incredible, redefining what a cathedral can be and how a basic, unexpected material such as cardboard can work in harmony with concrete and plywood to create something of beauty. Huge tubes clad the lofty ceiling, drawing the eye down to the altar, where smaller tubes form a large, wall-mounted cross, choir stalls, pulpit and various tables. It's apparent the cardboard isn't supporting the building structurally but, to me, that doesn't matter. The design is innovative, no matter how you look at it.
It's here that I meet Reverend Craig Dixon, the project leader for the Cardboard Cathedral.
As Craig explains, it was clear the damaged cathedral would take a long time to repair or replace in Cathedral Square. As well as wanting to build a transitional place of worship, the vision was to provide an example of how Christchurch's well-known Gothic architectural style could evolve during the rebuild process.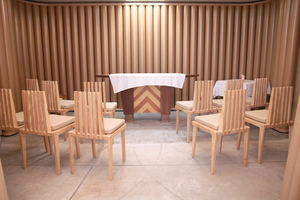 Enter Japanese architect Shigeru Ban, famous for his work with cardboard tubes to quickly construct buildings after natural disasters. Craig contacted Shigeru after reading an article about his projects and the rest, as they say, is history. Two years later, the Cardboard Cathedral stands proudly as the first new public space in the city, turning from a temporary initiative to one designed for 50 years.
If the aim was to provide an example of how the city could be innovative in its rebuild then this project has well and truly succeeded. I left feeling extremely excited with the prospect of what Christchurch can become if they follow the lead of visionaries like those involved with the Cardboard Cathedral.


A winner's thoughts
It was quite a week for the contestants on The Block NZ. They had to deliver the biggest areas of their houses, the living room and hallway, which is some serious reno. Pete and Andy were awake for two consecutive days just so they could finish.
Sleep was a luxury last year too, nabbing a nap when we could. While putting the finishing touches to our hallway at about 3am, I turned around to find Libby crossed-legged on the floor fast asleep, her paintbrush still resting on the skirting she was painting.
Loz and Tom showed their Mainland qualities when they gave Alisa and Koan the professional painters they'd won for their exteriors.
Alisa and Koan, who are rapidly becoming the show's outsiders, also won the room challenge, making it a great week for them.
There were some nice design features by the other teams too, in particular the imitation pressed-tin wallpaper Alice and Caleb used in their hallway. Loz and Tom showed their creativity again by turning an electrical cable drum into a coffee table and you can't go past the brother's chiller-drawer in the living room, perfect for a few beers.
Next week, they're on to their kitchens. Yum.
• Ben Crawford won The Block NZ 2012 with sister Libby and runs creative advertising agency Libby & Ben.