This handy table shifts to suit, says Greig Morgan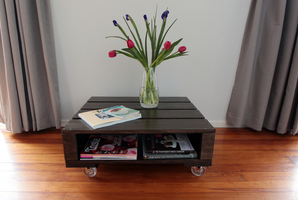 A coffee table with a shelf for magazines is handy, and one on wheels that you can move around the room to suit what's happening is even better. I've made this one to resemble a pallet for a more rustic look.


Step 1 - Decide how big you want your table to be, then measure, mark and cut the number of boards you need to the length you require, keeping the size of the table in proportion. I cut eight lengths at about 900mm for the bottom and top.
Step 2 - Position the boards with about 20mm between them (which is the thickness of the boards). This will give you your measurements for the table sides. Now mark and cut two boards to length for the sides of the table, but also allowing for the thickness of four corner pieces of about 100mm. The front and back corner pieces will sit flush with the table.
Step 3 - With the boards all cut to size, plane the sharp edge off all the ends to give a nice finished look.
Step 4 - Scribe a pencil line about 10mm in from the ends on the top and bottom boards as a guide. Pre-drill three holes evenly spaced along the pencil line on each board. Pre-drilling holes prevents the wood from splitting.
Step 5 - Fix the top and bottom boards to the side boards as well as to the four corner pieces. Carefully hammer the nails in flush.
Step 6 - With your table now assembled, cut four corner pieces to length, about 150mm, for the bottom. Line up the ends, pre-drill and nail flush with the corners. These are for the caster wheels.
Step 7 - Place and fix the caster wheels in the centre of the corner blocks, using screws of the appropriate length.


Materials
• 150x25mm pine
• Caster wheels, 2 with a brake
• 40mm stainless
• flathead nails
• Stain
Tools
• Protective wear
• Mitre saw
• Tape measure
• Pencil
• Screw gun
• 2.5 -3mm drill bit
• Hammer
• Hand plane
• 150g sandpaper
• Paint brush


Tip
Sand and stain the components before assembling.