Chelsea Flower Show features ornaments celebrities have decorated for charity.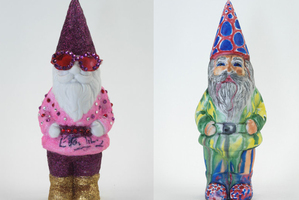 A New Zealand company has helped British celebrities including Sir Elton John and Lily Allen break a century-old taboo at the Chelsea Flower Show.
Arts and crafts company Seedling has given 150 garden gnomes for celebrities to decorate and sell in an online charity auction - the first time the garden accessories have been allowed at the show in its 100 years.
The gnomes are among 550 exhibits at the Royal Hospital Chelsea gardens and have been decorated by the likes of Sir Elton, Allen, Joanna Lumley, Dame Maggie Smith, and Jamie Oliver in honour of the show's centenary celebrations.
Seedling founder Phoebe Hayman said she was approached by show organisers, the Royal Horticultural Society, in February to donate the ceramic Colour Me Gnome sets.
"It's really exciting, it's such a traditional event with so much prestige. I think it's great that they are happy not to take themselves too seriously and have a bit of fun with it," she said.
"Gnomes and garden figurines have always been a lot of fun for kids and they have that folklore magic ... they are quite fun whimsical creatures and that's where the connection with us comes through, it's a very antipodean connection to such a big event."
A Horticulture Society spokesman said the New Zealand products had generated a lot of support for its Campaign for School Gardening appeal to create 15 horticultural apprenticeships in the next three years.
"Overall the campaign has been incredibly well received, already the gnomes are collectively fetching over £3000 ($5500)."
Ms Hayman, an Auckland-based mother of two, started Seedling in her laundry in 2007, and now exports its 350-product range throughout Europe, the US, Asia and Australia.
It is not the first time celebrities have been associated with the products, with Jessica Alba and Heidi Klum among fans.