Twenty-four suburban gardens will be open to the public this month in the annual Heroic Garden Festival. Josie McNaught smells some roses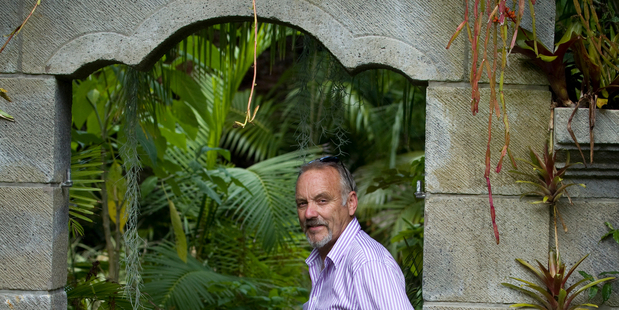 The rose garden at the hospice became a haven in the weeks leading up to my mother's death 25 years ago. It wasn't flash or overly designed, but it had comfortable benches in intimate spaces where me and other distraught people could have a comforting cigarette, a quiet sob or just five minutes away from the draining and desperate business of watching someone you love slowly slip away.
I was in the rose garden inspecting the early spring buds when the nurse came out and said Mummy had died. Even then, the space offered comfort and calm as the reality that she had gone, at last, started to set in.
So it is appropriate that the Heroic Gardens Festival fundraiser for the Mercy Hospice here in Auckland involves tours of private gardens, many of them with owners who, like me, have had some experience of cancer and the wonderful work that Hospice does.
The festival is now in its 17th year.It started out showcasing gay and lesbian-owned gardens and has now grown to include the gardens of many other Hospice supporters as well.
The comfort and joy of establishing new plants, growing them, caring for them and being rewarded for all your efforts is part of the rich cycle of life. Just as we have to adjust to things going wrong in the garden, things go wrong in life - but luckily Hospice is there to help us through. The Heroic festival is unique not just for its Hospice connection, but because garden owners are there all weekend to talk about their own patch - the ups and downs and the thrills and frustrations.
Our garden in Freemans Bay was involved for the first time last year and over two manic days we welcomed 1000 people to Russell St. In the end, I think I answered as many non-garden related questions as those about flora and fauna; gardening is as much about people as plants.
The attention you get is a bit like that at a wedding. The owners act as bride and groom (our dear friends and gate guardians Paul and Nicola completed the "bridal" party) and the lead-up is intense, not least because we are so conscious of the weather and willing so hard that precious plants and careful weeding will hold up for the weekend.
Once it's over, there is that little let down when you realise you won't be opening the garden gate to a whole host of people today but, as we've discovered, a year passes quickly and we will again have a frantic build-up to 10am next Saturday and the arrival of our first visitors. One of the most rewarding aspects of being in the festival isn't a garden itself so much as meeting fellow gardeners, many of whom relate to my experience in a Hospice garden. And just as my father did at our old family home, many planted small spaces of remembrance for their loved ones.
My father planted a special bank of azaleas in vivid pinks and reds. My mother had always been a keen flower-arranger and the structural shape of miniature azaleas lent themselves well to the displays that I remember so well from my childhood: gladioli as a backdrop, hardy proteas in mid-scene and azaleas tucked around the edges of the low-slung vases she preferred to work with.
Today's gardens are just as likely to feature exotic blooms from Bali, resilient natives and pieces of sculpture, as well as the usual flowers and veges. Touring them all is quite a feat and this year's crop of 24 gardens is no exception. Although all the participants are delighted to be involved, the one regret we all share is the fact we can't go on the tour ourselves and see each other's ideas and creativity. Lucky for me, this year I had a sneak peek of some of the gardens and I've come up with a shortlist if you are pressed for time and can't get around all the venues - you are definitely a hero if you do.
Don O'connor & Craig Jensen
262 Jervois Rd, Herne Bay
Don and Craig raise the bar for inner-city villa gardens. Craig's professional gardening background is in evidence with the slightly winding path that draws visitors towards the house, rather than directing them. It's a private haven from the busy road outside, but once you head around the back, the clever and considered design comes into its own. Every detail has been calculated and considered - no rash impulsive planting or landscaping here. And that's a good thing because, with smallish spaces, it can just end up looking overcrowded and dense. I defy visitors to resist dipping their hot feet in the pool, or to feel anything but admiration (and a touch of envy) for the organic vegetable plot beyond.
Marianne McRae
7b South Lynn Rd, Titirangi
Marianne has created Maymorn pretty much single-handedly. She bought the elegant Japanese-style house (designed in 1982 by Briar Green and Nick Stanish) some years ago and, since then, she has made a colourful and individual garden that brings her a lot of satisfaction now that she has retired from a long career in teaching. The rocks are impressive enough, but even more so when you find out she loaded them into her car boot and lugged them around the garden herself. She has gone for low plantings of riotous colour that she can enjoy from the many windows in the house and the outdoor areas. Her grandchildren are especially charmed by the space and like nothing more than wandering through the magical woodland that she has transformed from a lacklustre wilderness.
Craig & Bronwyn Thorburn
12 South-Lynn Rd, Titirangi
Probably the biggest and most impressive garden of the lot this year is Craig and Bronwyn Thorburn's labour of love. For 32 years they have tended this sub tropical gem. It is based around a series of circles that enable you to move around and through streams, pathways and under inviting arches. The house, built in 1900, has had an equal amount of attention and its generous verandas will be available for weary visitors to enjoy an old-fashioned afternoon tea as they gaze over the immaculate lawn. Purples, pinks, reds and flashes of orange mix with Kermadec nikau and hundreds of native and exotic specimens that Craig has gathered over the years. You can't fail to be charmed by this mix of Bali meets Singapore meets New Zealand. I think it's a must for all festival-goers this year.
Halmer Searle & Alan Bettesworth
1 Kohanga Rd, Mangere Bridge
Halmer and Alan have each lost family members to cancer but this exuberant couple doesn't dwell on that. Instead, they have put their considerable skills into transforming a bog-standard suburban garden into a lush, tropical haven. Soothing music chimes from the moment you step through the gate and the palms and bromeliads begin to work their magic. They have cleverly layered the plants to make the backyard space appear much larger than it is and, sipping a cool beer with them in the shade and listening to all the bird life, you realise you are in a tiny tropical oasis. Leaving and heading out into the beating sun was a wrench. It's the first time this garden, which was developed over two years, has been in the festival and it's well worth a trip out to magic Mangere mountain to view it and meet these two respected and experienced gardeners.
Fiona Fleming
78 Shelley Beach Rd, Herne Bay
Shelley Beach Rd is an exit off the Harbour Bridge, so many of the houses understandably have high walls to keep out traffic noise. And who knows what lies beyond? Lucky for festival-goers, one of these secret gardens will be open to view. Fiona admits that she has found her garden acts as therapy when dealing with the stresses of modern
life. So it's not surprising that she offers a green escape the moment you walk through the gate and are greeted by the heavenly scent of some of the most gorgeous gardenias I've seen in a long time. Moving around to the main garden and around the back, Fiona has assembled a collection of flowers (the roses are amazing) and vegetables in raised beds that are colourful and practical and rewarding to look at from her veranda at the end of day's gardening.

• The Heroic Gardens Festival runs from February 23-24, 10am-6pm. Go to heroicgardens.org.nz for details and ticket sales.