A new book by Andrea Stevens explores the connections New Zealand houses have with the outdoors.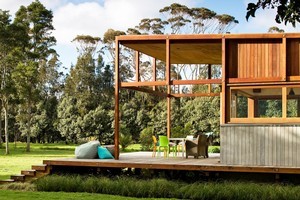 Running barefoot in the playground of her school near Lake Garda in northern Italy earned a young Andrea Stevens the taunt of "Piedi nudi, piedi nudi!" from her classmates. Stevens' father was seconded to that picturesque part of the country for work and, having spent many holidays at the beach, the deliciously warm Mediterranean climate inspired his daughter to follow her instincts.
"To me it was as natural as anything to take off my shoes to play as soon as the bell went, but for Italians it was a cultural no-no."
Stevens, an architect by training, tells this story to illustrate the spirit of freedom that, perhaps nostalgically, bubbles in the Kiwi psyche. It's that selfsame feeling that runs through Summer Houses, a recently released book she wrote in collaboration with photographer Simon Devitt.
Sadly, Stevens believes, children are no longer inclined to run unfettered to explore their environment, be it urban or rural.
"What we think is safe has shifted. We put so many sensible constraints in place that we add the fear factor and our kids no longer feel the freedom and that easy connection with the outdoors that our generation had."
This deep-seated need to get out among it however, remains. That is why our homes are now being designed to extend an open-all-hours invitation to the outdoors. Stevens says that summer houses "widen the threshold" of what lies between us and the landscape - whether that's the beach, snow-sugared mountains or the elegant needle of the Sky Tower.
Her own Pt Chevalier home, which she shares with her husband, Greg Murphy, an environmental manager, and their two daughters, Stella (7) and Sina (4), is 10 years old now. It is a narrow two-storey building that runs on a linear footprint along a back section. "I designed it in my 20s," says Stevens. "All houses are autobiographical to some extent and the key thing then was budget."
She says the rationale behind the linear plan was simple - two walls and joists to span them, was an obvious way to keep costs down.
And though the home's casual nature makes the most of the natural light and surrounding greenery that has flourished in the decade, there are still touches she's keen to add.
"Because we never finished it, it looks a bit like a townhouse. We meant to build out the sides to ground it."
Visiting properties throughout the country to write the book has highlighted several home truths about the evolution of the "summer house".
Many designs take their architectural cue from those modernist boxes that sprang up in the late 90s and early Noughties, a style she believes has been given a bad rap.
"They were published in so many magazines and felt unattainable and severe, yet as a way of living they offered something incredibly functional."
These uncompromising concrete rectangles were the starting point, says Stevens, of architects pushing the boundaries.
"Those people, along with their clients, were the leaders and innovators. From them, ideas have trickled down into the public consciousness." As proof she cites the new subdivisions in the beachside community of Mangawhai where the mono-pitched roof reigns unchallenged.
"They don't always get it right. Sometimes the roof is teamed with a flat ceiling, which defeats the purpose," says Stevens.
Nevertheless, these houses with their arms-wide-open nature are now maturing, taking on more character and materiality.
One way they are evolving is in that they have more "layering" to their bones - architectural elements that control and diffuse light.
"[Architect] Marsh Cook does this so well," she enthuses. The 'eyelashes' on his own city house bring in lovely light and shadow."
As Stevens points out, you could opt for the motorised shutters, glass and covered pergolas that Cook used but on smaller budgets, a well-designed lineal trellis can also effectively soften the elements.
"That can be something as simple and economical as bamboo. Bamboo may not last as long but it's biodegradable and is easily replaced."
So what other features define a summer house? Cue the courtyard, in various guises. This can be entirely enclosed by a glazed gallery on all sides, as in architect Noel Lane's approach in Arrowtown, or a graduated response to the weather factor as in a Great Barrier bach designed by Lance and Nicola Herbst.
"The building moderates the climate and challenges the rain," says Stevens. And it's done in a fittingly low-key way. Here, what is basically a verandah with a floating roof serves three separate functions. It runs through the plan but is designed to be fully enclosed, semi-enclosed and semi-exposed, depending on the "room" it designates.
Concrete too, while vilified by many as cold and inhospitable, is completely the opposite, she maintains - if used in the right way. With a satin finish to add texture and enough soft furnishings to dampen it, it is a real friend of the healthy home.
"A concrete slab facing north acts as a wonderful thermal mass: unless you experience it, it's hard to imagine. In the Arrowtown house, the owners have a heat pump but they seldom need to use it."
There's not only a practical side to these trends but social consequences, too.
"Kiwis love to invite people back to their houses and no villa that hasn't been opened up could ever accommodate small or large groups with such ease - there are narrow doors to walk through and a sill to step over."
Another commonality Stevens encountered while seeking the summer mood in island, metropolitan and alpine environments, was the rise of the use of built-in furniture and window seats.
"This gives the feeling that there's not just a thin wall separating you from outside - again it's that layering. Plus the extra surfaces create character - more storage and places to put objects."
Exposing the construction was a growing inclination, too. "Not everything hidden behind Gib." Timber framing, rafters, tongue-and-groove ceilings, even plumbing bits were in full sight. "I'm talking about using humble materials such as pine and plywood in effective ways."
It is this x-factor, she believes, that defines a good architect - someone who knows how to explore the most basic materials and who has the experience to dictate proportions that work. "I met jeweller Warwick Freeman recently and he described how he makes 3D models of his pieces by knocking the material into rough shape to feel its weight and reference how it will mould to the body."
A good architect, then, is a crafter of harmony. "When I write about houses I don't just want to describe what it is, but to highlight that which is unseen. I want to give readers a second lens on the house, to show them what informed and influenced the outcome."
And though Stevens may now be longing for a summer pad of her own, she is pragmatic. "Not many people can afford a second house these days, so if we still yearn for that casual way of life, we've got to do it in our own home."
* Summer Houses by Andrea Stevens with photography by Simon Devitt is published by Penguin, RRP $60.