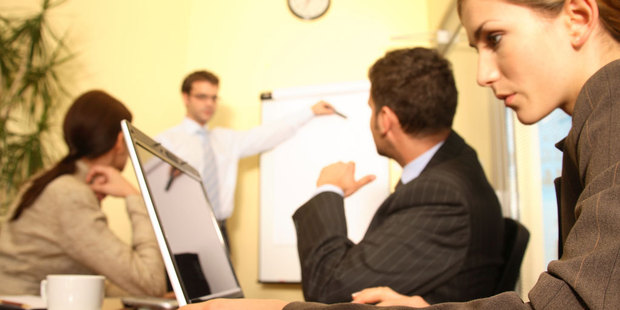 I've been working with quite a few sales teams lately, in many different industries. While their normal sales training includes how to close a sale, I have found a general lack of forethought, experience or training in what to put into their presentations to be more persuasive.
It's similar in many aspects to writing and delivering a speech. You want to get attention, keep the interest and motivate to action.
I thought I'd highlight three easy yet important ways to be much more successful in closing a sale - using strategies that I employ every day in my proposals and presentations.
1. Do your homework
How much time do you take researching a prospect before your initial contact? You will clearly be more successful by understanding their industry, their problems and challenges. What the responsibilities of their role in the business are. Then you can put their shoes on and relate how you can help solve their problems.
2. Results before resource
Almost every piece of marketing material, proposal, sales presentation that I see has the wrong I/You ratio of. Your prospects care about themselves. Have you heard the acronym FORM? It's what people care about: Family, Occupation, Reputation, Money.

Yet most marketing material focuses on how wonderful 'we' and 'our' products are. How great we do. Send this chest thumping guerrilla marketing philosophy packing. In other words we as the resource available to them.
Replace it with a customer focused what's in it for them strategy. Their results. How will it make them more successful? How will it make them money? More esteemed? How will it free up time? Solve problems?
3. Put a dollar value on it
So many sales proposals are fluffy. That isn't how the business world operates right now. It most often comes down to the bottom line - Profit, sales. So except for the largest of corporations, branding, 'eyes', happy staff etc doesn't cut the mustard.
In your proposals put a dollar value on how they'll benefit. Measure their rate of return.
This is easier than you might think. Will your product/service make more money for them? Estimate the numbers of 'more' they'll sell by the dollar value. Don't forget to factor in the life time value of that one new client. Will your product/service save them time? Put a value on it by estimating how much time it will save per annum multiplied by the value of that person's time (their wage per hour, salary). You can reduce stress? Does that lead to happier employees which helps reduce turnover? You can quantify the recruitment costs saved along with the productivity continuum.
Help them make more sales or increase turnover? Take the average value of one sale multiplied by the number of new ones expected.
You can get the base information any number of ways. Research on the Internet. Their Competitors. Annual reports. Talk to HR professionals about salary levels. Colleagues in that industry. Allies within that company.
I guarantee using these three strategies cleverly will help you close more sales.