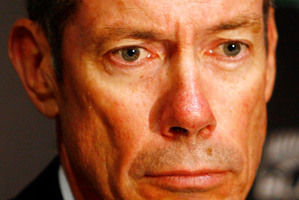 The Beatles famously sang about wanting a revolution; now chief executive David White is no John Lennon, but all around him change is swirling at New Zealand Cricket.
In the past few days, a fresh constitution has been put in place; five of the eight NZC board members have signalled they are standing down; and two of the senior officials in the high performance area have resigned.
Not an insurgency perhaps, but without question, much is afoot at HQ.
September 19 is the date for the special general meeting to usher in the new board, and chairman to replace the outgoing Chris Moller.
By then Kim Littlejohn's replacement as national selection manager should have his, or her, feet under the desk; and, at the least, the new director of cricket to take over from John Buchanan should be packing his laptop ready to move in.
There has long been unhappiness that Buchanan, in particular, had been a disappointment.
The former Australian coach was given a four-year term to culminate in the 2015 World Cup.
But the high performance operation has been less than overwhelming and Buchanan found himself unable to achieve any simpatico with either the last New Zealand coach, John Wright, or his replacement Mike Hesson, both of whom technically answered to him.
From the time NZC backed Hesson's decision to dump Ross Taylor for Brendon McCullum at the end of last year - contrary to Buchanan's recommendation - the tall Queenslander was effectively chopped off at the ankles.
Buchanan was a strong supporter of Taylor during that ugly imbroglio.
The story goes that when he went to England during this year's tour, Buchanan had coffee with bowling coach Shane Bond and Taylor, but pointedly not with Hesson. That is a hopeless and unworkable situation.
Officially Buchanan wanted to go back to Brisbane for family reasons. That's convenience talk. The idea simply hasn't worked out.
Just as NZC has appointed a panel to make recommendations for the vacant board positions, so another group, to include the country's greatest player and longtime former selector Sir Richard Hadlee, will deliberate on Littlejohn's replacement. Buchanan's successor is a further few weeks down the line.
Both roles give an opportunity to put skill-suited people into those positions.
The Weekend Herald understands one prominent former international of recent vintage has been inquiring about the selection manager role since Littlejohn's intentions became public.
This person, while talented in certain cricketing respects, would be totally unsuited for the Littlejohn job.
NZC have given themselves chances to make fresh appointments, both in the board room and outside it.
And after a couple of years of disgruntlement and communication breakdown, it goes without saying they'd better take them.