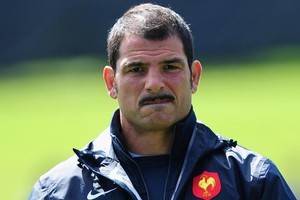 If France start well, get early points and arrive at halftime in touch, or even in front, watch out.
Before last weekend's semifinal against Australia, the air was thick with tension at Eden Park.
Normally sound, unflappable people were jittery. Was the dream to be dashed once more? This, remember, is a road well travelled by the All Blacks.
Instead, the favourites produced an astounding performance against opponents expected to give them serious grief, perhaps even win.
The All Blacks remembered the old dictum of Charlie Saxton, fine man of New Zealand rugby as player, coach and administrator.
Position, possession and pace was Saxton's creed. The game and all its peripherals are different in so many ways now from Saxton's time half a century ago, and yet his philosophy remains as relevant as it was then.
That win over Australia - and specifically the manner of the demolition - has lifted the home spirits to the point where, once again, there seems a prevailing view that France have no chance, and will get a Muhammad Ali-style whupping from Richie McCaw's men.
If this is so, it tells us history has taught this country's rugby population nothing.
Let's get this out of the way; at this desk, the All Blacks to win by a dozen points sounds about right. There seems no way France can win the crown at their third attempt.
By all accounts they've been a ragtag bunch through the tournament, unhappy with their firm-minded coach, fractured and disinterested and trying to do what no other cup champion has done: win after having lost not just one, but two pool games.
Expecting the All Blacks to be at maximum velocity as they were against the Wallabies may be asking too much. However, France have so many areas in which to improve significantly there seems no chance they can do it.
And yet, we've said this before. France must look into their soul and find a way to activate the spirit within.
A group of former French players and captains gathered for a long and liquid lunch at an Auckland hotel yesterday.
One tough old warrior, Michel Palmie, who was well known to members of the rugby judiciary during a chequered career, reckoned the current side lack "balls". He made the point with a rather emphatic gesture.
France can do far worse than summon that us vs them attitude several players have mentioned in the last few days. No one likes us; we don't care.
But that alone won't get them close if the All Blacks are on song. They must play smart and muster the collective game of their lives. And hope.
It's not hard to imagine France's scrum and lineout will be superior to the Wallabies', and they'll kick better and certainly have a couple of fine goalkickers.
If they start well, get early points and arrive at halftime in touch, or even in front, watch out.
All this will count for nothing if the All Blacks turn up tomorrow night with the intensity and accuracy retained from last weekend. If they squeeze hard enough, and long enough, France won't have an answer.
But tomorrow night will also be a test for New Zealand.
How far has the country matured when it comes to treating Kipling's twin imposters, triumph and disaster, with equal facility? Or is the default setting at World Cup time still all wrong? We shall see.
New Zealand has run a superb tournament. The sense of enjoyment, the buying into the experience the length and breadth of the land, the efficiency and collective determination that this cup would work, all means there deserves to be only one result.