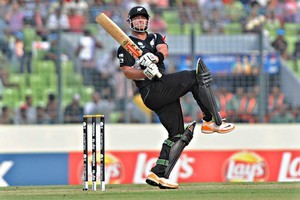 1 Learn from their last meeting with Sri Lanka. Sri Lanka easily won their pool game in Mumbai on March 18, even though in-form openers Tillekaratne Dilshan and Upal Tharanga made a combined six runs. No New Zealand batsman reached 35. Muttiah Muralitharan and Ajantha Mendis took six for 49 from a combined 14 overs. Get the strategies right so that they at least give themselves a chance.
2 Take the game deep. That's when the squeeze goes on the favoured teams, as happened with the South Africans at the weekend.
3 If New Zealand have any cards up their sleeve, now is the time to play them. This tournament has more than a whiff of the pre-ordained about it. It feels a set-up to a degree with all indicators having long pointed towards an India-Sri Lanka final this weekend. So New Zealand - and Pakistan for that matter, who will play tomorrow in the second semifinal - cannot hold anything back for the final. Forget the final. Nothing can be half-hearted tonight. If the belief is strong, as New Zealand demonstrated against South Africa, they are far from totally without a shout.
4 Sri Lanka's top four are formidable. Dilshan and Tharanga were devastating with their unbroken 230-run stand to crush England in their quarter-final. Kumar Sangakkara and Mahela Jayawardene are the rocks. But below that there's a large question mark. Thilan Samaraweera, Chamara Silva and Angelo Mathews have had limited batting opportunities in the cup. From a combined 20 games, they've had just 12 innings altogether, most of them brief. It shapes up as a soft underbelly. The trick for New Zealand's bowlers will be skimming the top off to get at it. But if they don't, it could be game over.
5 New Zealand have been perhaps the finest fielding unit in the cup, sharp with groundwork, generally possessing safe hands. Martin Guptill, Nathan McCullum, Ross Taylor, Kane Williamson and regular substitute Jamie How have been top notch. Now is not the time to drop that particular ball. They showed what is possible by keeping the blowtorch pointed at the South Africans - Guptill's effort to run out the dangerous AB de Villiers effectively decided the quarter-final.
6 If they bat first, which both captains are likely to do, they must set a realistic target and make sure they get there. There's no point reaching for the stars at the Premadasa Stadium and running out of fuel. New Zealand's highest score there is 236 for eight, 10 years ago, so be smart. Somewhere around 240-250 seems about right. Anything above that should be considered a bonus. The batsmen must pace themselves cleverly in the strength-sapping sticky heat, rotate the strike and work the singles. It is a bowler's pet hate.
7 This will be Muralitharan's 57th and final ODI on the ground; his last on Sri Lankan soil. He's hamstrung, but even on one leg he'll be pumped up. New Zealand's batsmen are often clueless against unorthodox spin and Muralitharan and Mendis are an awkward double act. So they should consider settling a low return from Murali's overs in favour of keeping wickets intact. Better none for 32, say, than four for 47.