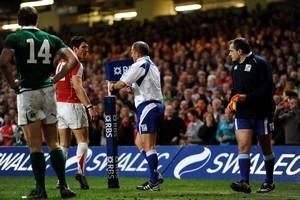 If. It is the most useless word in sport but each weekend it gets put to good use in post-game arguments up and down the land.
If only Parramatta Eels wing Etu Uaisele hadn't recklessly propelled himself head first into Manu Vatuvei's knee early in the Warriors' NRL opener at Eden Park he wouldn't now be facing upwards of six weeks on the sideline.
If only Stephen Brett hadn't nailed his 40m penalty at the end of the Blues' 22-all draw with the Force, Keven Mealamu would have been even less impressed than he was with a share of the points in Perth.
If only a Scottish touch judge, Peter Allan, hadn't made a howling cockup over a quick lineout at the Millennium Stadium, erroneously giving the Welsh an ultimately match-deciding try against Ireland.
If only South Africa's wicketkeeper Morne van Wyk hadn't stood rooted to the spot as an edge from Virendar Sehwag flew past his right hand in the second over of yesterday's big World Cup clash in Nagpur.
Had van Wyk, who looks - and keeps - like he should be waxing his board at Malibu instead of being at cricket's big show, been a reasonably competent gloveman, we would have been deprived of watching an exhilarating opening stand between two of the game's modern greats.
Sehwag and Sachin Tendulkar piled on 142 in 17.4 overs - with a tournament record 87 off the first 10 overs - as a pretty decent South African attack was taken apart.
However, there were no ifs, or buts for that matter, about the highpoint of the sporting weekend.
It came early on Saturday morning when Bangladesh toppled England at the World Cup.
The big international tournaments need the hosts to do well. It keeps home fans engaged. You can guarantee a tournament, whatever the sport, loses some of its appeal if the country putting it on departs indecently early.
Of course, they don't need to win it, just be in the hunt. Bangladesh's fellow joint hosts India and Sri Lanka certainly are.
Bangladesh were in danger of being wiped out well before the group stage ended.
The weight of a hugely expectant nation was not helping. They'd been rolled for a humiliating 58 by the West Indies.
If not for Shafiul Islam, a young medium pacer with a big heart and a decent hitting eye, it could have been curtains for Bangladesh on Saturday.
Instead, they've found a new hero. Shafiul carried Bangladesh over the line, along with Mahmudullah, in an unbroken ninth-wicket stand of 58. It was marvellous, seat-of-the-pants entertainment.
The surprise of the weekend? Not the Warriors' loss, they were well off the pace for much of the match.
Rather it was India's failure to close the deal against South Africa from a formidable platform.
From 267 for one, with 11 overs remaining, they folded for 296 and were chased down in the final over, which went for 13.
There was another masterclass from Tendulkar, with his 48th ODI hundred.
It sounds ho-hum because the cricket world is so accustomed to lauding the little champion. So say it slowly. Forty-eight ODI centuries.
He and Sehwag put on 87 in the first 10 overs, a record in the tournament, Sehwag maintaining his record of hitting his first ball in all five innings so far to the boundary.
But there have been questions asked of India's bowling attack already and they didn't have the answers when South Africa hung in for a top-class victory.
What if - there we go again - France had kept their collective noses in front of the Italians in Rome?
Instead, Italy had a historic win, only their eighth in 59 games since enlarging the tournament to six teams.
Those French, eh? Who'd give them a price at this year's World Cup? Playing the All Blacks in their pool at Eden Park too. No chance.
Ah yes. We've been here before. Under a coach, Marc Leivremont, who can't decide on what constitutes his best XV, the French are all over the place.
But as any self-respecting student of these matters knows, hold those bets, and assumptions, when it comes to Les Bleus and the All Blacks.
WEEKEND WINNER
Italy in the Six Nations. Toppling France is a mighty result, their eighth win in 59 games in the tournament but (due respect to the Welsh and Scots) the first over one of the "biggies". But what does it say about the French in World Cup year?
WHAT TO WATCH
A bit of summer and winter. New Zealand v Sri Lanka, Friday night in Mumbai. It will decide New Zealand's qualifying position for the quarter-finals. Highlanders v Crusaders, Saturday late afternoon in Dunedin. The early-season eyecatchers against the perennial New Zealand torchbearers.