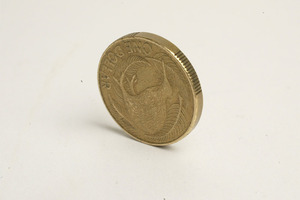 The New Zealand dollar held above 79 US cents as leaders from the Group of 20 nations increased pressure on European Union policy makers to stamp out the region's debt crisis threatening global growth.
The New Zealand dollar was little changed at 79.20 US cents just before 8am from 79.29 cents at 5pm yesterday. The trade weighted index increased to 71.62 from 71.47.
G20 leaders meeting in a summit in Mexico are leaning on German Chancellor Angela Merkel to give Greece's incoming government more leeway under the regional bailout.
Greek elections reduced the immediate risk of a euro-zone break up, with pro-austerity parties New Democracy and Pasok securing 162 seats in the 300-seat Parliament. The G20's European concerns intensified as the yield on Spain's 10-year bond surged to a 13-year high 7.29 per cent.
"How much will the G20 isolate Germany? It is increasingly setting its own austerity measures - the danger is that Germany is the paymaster of Europe," said Stuart Ive, currency strategist at HiFX.
"This has translated into a European downslide - we have seen a big fall in the euro."
The New Zealand dollar rose to 63 euro cents from 62.19 cents yesterday.
Markets are waiting for the Federal Reserve Open Market Committee's policy statement to be released tomorrow, following a two-day meeting.
The statement is expected to provide fresh details of efforts to speed up the pace of recovery in the world's largest economy, after a string of weaker-than-expected data.
"The market is in two minds about whether that will get QE3 or not, some of it is already priced into our local currency," Ive said, referring to a third round of quantitative easing.
US housing statistics are released today, followed by jobless claims on Thursday.
Australia, New Zealand's largest trading partner, will release the minutes from its central bank meeting this afternoon. Earlier this month the Reserve Bank of Australia cut its target cash rate by 25 basis points to 3.5 per cent in the face of deteriorating global sentiment.
"The New Zealand dollar will be dictated by the Aussie minutes," Ive said. "After the surprise move to cut rates followed by the string data the market will be looking for an indication behind the central bank's thinking."
"The kiwi has managed to hold above 78 Australian cents and I think this will continue after the statement," Ive said.
The New Zealand dollar was little changed at 78.29 Australian cents from 78.32 cents and slipped to 62.62 yen from 62.72 yen. The kiwi rose to 50.52 British pence from 50.45 pence.