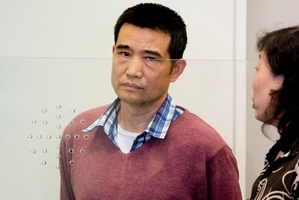 The Auckland man accused of murdering his partner Cissy Chen might not face trial later this year as scheduled.
Yun Qing "Jack" Liu, 57, appeared briefly in the High Court at Auckland today, where he has previously pleaded not guilty to a charge of murder.
Defence lawyer Michael Kan has applied for a delay in Liu's trial, currently scheduled to begin in October, and Justice Graham Lang said a hearing for the matter would be held later this month.
Mr Kan said he was yet to receive all "disclosure" documents about the case from the Crown. Prosecutors have previously indicated they would call more than 50 Crown witnesses at the trial.
Ms Chen, 44, was last seen alive on November 5, 2012, after leaving the accountancy firm she worked at and driving home.
Police found her body in late March after a contractor mowing the lawns at Totaravale Reserve discovered a ribcage and a skull in a drain.
Most of the rest of Ms Chen's remains were found nearby and Liu was arrested and charged with the murder in early April.
He remains in custody.
- APNZ