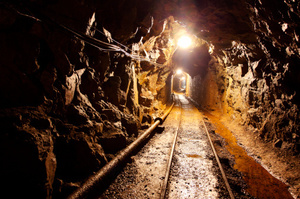 A former Central Otago goldmine worker yesterday admitted stealing gold-bearing sand from the mine, which police later found in plastic lunchbox at his home.
Adam David Low (23), of Alexandra, "got involved in the legal highs that are sold freely in this town" and it "cost him everything", counsel Kieran Tohill told the Alexandra District Court.
Low pleaded guilty to stealing gold bearing sand, valued at under $500, the property of Southern Earthworks at Earnscleugh, between May 9 and August 26 this year
He also pleaded guilty to stealing from an Alexandra house between October 19 and November 16 last year and prosecutor Sergeant Ian Collin said "family heirloom" jewellery with a replacement value of $11,220 was taken. The defendant also admitted receiving assorted tools valued at $400, being reckless as to whether the tools had been stolen, on April 3 at Alexandra.
"This seems quite a serious episode," Judge Fred McElrea said and remanded Low on all matters to December 11 for probation report, reparation report and sentencing.
Sgt Collin said Low had been employed by Southern Earthworks at the Earnscleugh mine as a fuel tanker driver. Sometime after he started there, he had taken some sand that had been partially processed and was ready for the gold to be extracted.
He initially told police the sand was from a riverbed near Cromwell but then admitted "taking a couple of handfuls" of the sand from the goldmine.
"Located in his home address was a plastic lunchbox with about 1.2kg of gold-bearing black sand. Gold is clearly visible in the sand."
Low had tied to separate the gold in his laundry tub, using a goldpan, but claimed he was unable to separate it out, Sgt Collin said. He said he had only taken sand on one occasion.
His friend's mother was the victim of the jewellery theft. Gold and silver jewellery had been sold to a dealer by the defendant. Diamonds and amethysts had been cut from rings and those stones had not been recovered.
Tools from a stolen socket set had "shown up" in his garage, but he did not how, Low told the police.
The defendant had lost his job at the goldmine, a role that earned him $900 a week, Mr Tohill said. The defendant had "moved away" from using synthetic cannabis and had prospects of gaining seasonal work.