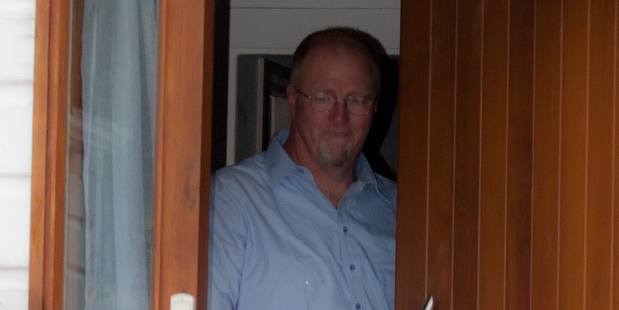 Mark Lundy spent his first weekend of freedom watching Bathurst, catching up with friends and Skyping family.
Lundy enjoyed a Sunday breakfast at the house he has been bailed to, after the Privy Council quashed his convictions for the murder of his wife and daughter 13 years ago.
A family spokesman said Lundy had not left the house and didn't plan to for at least a week.
He had been instructed by his lawyers not to speak to media as the Crown decided whether to hold a retrial for the murders of Christine and Amber Lundy in their Palmerston North home.
The man said even if he could, Lundy was not ready to talk about his new-found freedom.
"He's just getting used to being here," the spokesman said. "We're going to watch Bathurst today, we're looking forward to that. He's a Ford man."
Lundy and his bail address hosts were visited by friends in two cars who brought a newspaper and refreshments to watch the Australian car race.
Later in the afternoon, when The Ice Cream Man van parked in the street, there was a steady flow of customers, but still no sign of Lundy.
His spokesman said Lundy had spent the weekend getting up to speed with new technology, Skyping nephews in Perth and a friend's daughter in Auckland.
"He's done some Skyping. We've got him a phone and he's getting to grips with that. He's doing fine. He's okay but he can't talk and he's not going to."
Speculation that Lundy would visit the graves of his wife Christine and daughter Amber was correct but it would be done in secret, the spokesman said.
"I'm sure he'll want to at some stage. That will be extremely private. There is no way anyone will know when that happens."
The spokesman said there was no restriction on where Lundy could travel in New Zealand but the family would be careful about visiting his former home city.
"We're aware of the sensitivities around Palmerston North."
Lundy would spend his time this week speaking with his lawyers, though no time frame had been set around a possible retrial.
Lundy was not "particularly worried" about abuse yelled at him from neighbours on Friday night when he arrived at the address.
Some neighbours had contacted police and the council, worried about him being bailed to their street.
However, another neighbour spoken to by the Herald said he had no problem with Lundy moving in across the street.
"As far as I'm concerned he's innocent until proven guilty and that's the way it should stand."
He did however draw the line at offering Lundy his support.
He said the media attention was hard to ignore when there were TV cameras outside his door.
"It's a case of pulling the curtains and not thinking about it for me."
Neighbours at the house where abuse was shouted during Lundy's arrival declined to speak to the Herald after their comments on Friday night.
Meanwhile, Lundy's lead supporter, Geoff Levick, said he could not speak to media. "We are on a complete embargo from talking to the media. Everybody is. No one's allowed to say a word."
KEY: JUSTICE SYSTEM IS WORKING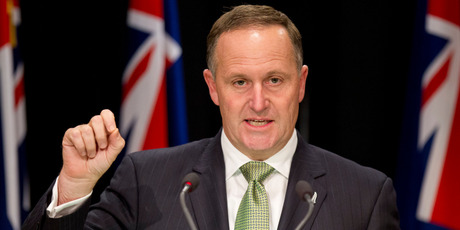 In the wake of the Privy Council quashing Lundy's convictions, Prime Minister John Key says the justice system is working and further measures to stop wrongful convictions are not needed.
It follows David Bain's acquittal in 2009 for the murder of his parents and siblings, and mounting questions about the legitimacy of Teina Pora's conviction for the rape and murder of Susan Burdett in 1992.
Speaking on TVNZ's Breakfast programme this morning, Mr Key dismissed introducing a new independent body capable of hearing appeals against wrongful convictions.
"We already have a system that works. We have a system that allows people to appeal - if they don't agree they can go to the Court of Appeal and either the Supreme Court or the Privy Council, so there's lots of checks and balances in the system."
He said the Bain and Lundy cases were "very complex".
" ... Each of them had appeals that went through various processes before it got to the Privy Council, which took a different view. I think overall there are a huge number of particular cases that go right through from burglary to, at the top end, murder. And I think the justice system largely gets that right. Would adding another layer make much difference? I'm not sure that it would."
Mr Key believed most New Zealanders still had confidence in the justice system.
"Generally yes. There is a range of views out there on Mark Lundy and David Bain. There will be some people out there who think they're both guilty and there will be some people who think that they're both innocent."
LABOUR LIKELY TO ADOPT POLICY
Labour's justice spokesman Andrew Little says Labour is likely to adopt policy for New Zealand to have an independent commission to consider miscarriages of justice and decide on compensation for those found to be wrongfully convicted, rather than risk eroding faith in the judicial system.
Justice Minister Judith Collins has scotched the suggestion, saying that the current appeals and Royal prerogative of mercy system were effective at addressing miscarriages of justice, and an independent commission would be able to do no more than the current system.
However, Mr Little said there were key differences in the evidence that could be considered and an independent body was the best way to prevent decisions becoming politicised. An independent commission was also a more accessible option.
Mr Little raised the issue following consideration of David Bain's compensation claim, as well as the conviction of Teina Pora and most recently, the Privy Council decision to allow Mark Lundy's appeal and order a retrial of Lundy for the murders of his wife Christine and daughter Amber.
Supporters and lawyers for both Mark Lundy and David Bain have called for a similar body to be established in New Zealand.
Mr Little said the cases of Mr Bain and Mr Lundy had made it to retrial largely because of the efforts of determined supporters - and a more accessible system was needed. He said the British and Scottish commissions consisted of panels of experts and could look evidence that might not be available in a court, giving them an advantage over the prerogative of mercy system, which were considered by Ministry of Justice officials or a commissioned lawyer, and tended to stick to the evidence presented in court rather than seek independent expert evidence. Mr Little said a commission would also be more independent in weighing up a court's decision.
"The other benefit is that, like it or not, the Ministry of Justice has at the very least an appearance of an interest in protecting the reputation and record of the judiciary. So I don't think it is sufficiently independent."
Ms Collins repeated her view that no change was needed when speaking on Q+A yesterday, saying that the courts were independent. She said that 10 per cent of the miscarriage of justice cases considered under the prerogative of mercy in New Zealand were sent back to the Court of Appeal to reconsider, compared to 4 per cent of the cases that the UK and Scottish criminal review commissions considered.
She said she expected that there would be a retrial for Mr Lundy - a decision that is made by the Solicitor General.
Mr Little said the commission could also be used to consider claims for compensation for a wrongful conviction, rather than leave that to the Justice Minister to make a recommendation on. He referred to the Bain case as an example, saying it was too easily politicised even if it was unwitting. Mr Little said while such a commission would cost money, based on the Scottish commission it would cost about $3 million a year. "This is about confidence in our criminal justice system, and although you could say 99 per cent of the time they get it right, it's the difficult cases in which they get it wrong that have the most potential to cause harm to the reputation of the system. I just think a Criminal Cases Review Commission is a safety valve we've got to make sure in those rare cases where they get it spectacularly wrong, there is somewhere to go."
Establishing a criminal review commission was not yet official Labour policy, although caucus had agreed to look at it. Work on a commission was underway under former Justice Minister Phil Goff in 2006, but was not completed before Labour left office in 2008. Mr Little said he expected to resurrect that work.
The Criminal Cases Review Commission in the UK is available after the usual appeals have been exhausted and can refer cases back to the courts if they believe there was a miscarriage of justice.
- Claire Trevett