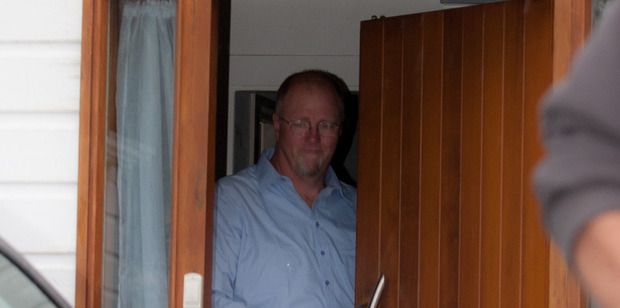 Mark Lundy plans to visit the graves of his murdered wife and daughter - as well as of his father, who died while he was in jail, says a family spokesman.
He also wants to get up to speed with technology such as smartphones and broadband now he is out of jail for the first time in more than 12 years.
Lundy, who was freed from Rangipo Prison yesterday, arrived at his bail address - the location of which has been suppressed - just before 6pm to mixed reactions.
After calmly getting out of the car, he gave a woman a long hug before walking inside the house.
A person living at that address spoke briefly to journalists, asking for privacy while acknowledging some neighbours "might be upset, but we can't help that".
At the same time, a neighbour from across the street yelled, "I'm furious, f****n furious", to which the man replied, "Read the decision", referring to the Privy Council ruling quashing Lundy's two murder convictions and referring the case back for retrial.
The neighbour later said she was "absolutely sickened and shocked" Lundy had been bailed to the address, adding that others in the street shared her views.
She said she had rung the council and police but was told there was nothing they could do to reverse the decision to bail Lundy to the address.
At the bail hearing in Wellington, Justice Ronald Young set bail conditions that Lundy reside at an address that the judge suppressed, and that he report to police once a week.
He also ordered Lundy not to contact any witnesses from the initial trial.
He did not impose any limits on where Lundy could travel, which means he is able to visit his home town of Palmerston North.
A spokesman for Lundy told the Weekend Herald the freed man was looking forward to his first night out of jail since being arrested in 2001, but faced some difficulties in the transition from prison life.
"He's got a big smile on his face and we've got him in some nice clothes. He's free, which is a nice feeling for him, and now he can get on with what he needs to get on with. It's going to take some time to adjust."
While Lundy had used cellphones and email before, technology had taken a huge leap forward while Lundy was inside.
"Just little things like learning how to send a text on a smartphone, or using the internet. Broadband is so different to the old dial-up, it's not like it is now."
But there are more serious issues at hand. Lundy will need to prepare for his retrial with his legal team, and the spokesman told the Weekend Herald he wants to visit the graves of his wife and daughter - and of his father, who died while his son was in prison but believed in his innocence.
"It won't be for a while; we just need to settle down. And we certainly won't be telling anyone when."
And after 12 years of prison food, Lundy wasn't too fussed about his first meal last night - but there were suggestions it would be "something home-cooked", probably porkbelly.
Lundy was released following the bail hearing in the High Court, which in turn followed the unanimous ruling of five members of the Privy Council in London on Monday.
Outside court, nephew Steven Jones said his family were "ecstatic, over the moon" with the decision. "I came into it cautiously optimistic, but until they made the actual decision, I didn't really know what was going to happen."
He said it had been tough waiting for his release. "But we always supported him, never wavered, so I'm glad today's come."
Christine Lundy's family reacted angrily to news of the release.
Her brother, Glenn Weggery, said: "I'm just over it. I've given up. There's nothing I can do. Nothing we say has any effect," he told 3News.
Meanwhile, an expert says Lundy may be entitled to a $500,000 life insurance payout from his wife's death - which the Crown argued was a motivating factor in the alleged murder - should he be acquitted at a retrial.
It is not known if any of her family have already received the money but if they have, the matter could go to court, where the insurance company could be ordered to pay the sum twice, said life insurance lawyer Michael Burrowes.
"Just speaking generally, if he's acquitted, if there's a finding at the retrial that he did not commit the murders, then it appears he is entitled to the policy proceeds."
"He would fill in a death claim form and supply proof of death, and the insurance company would carry out some basic checks to make sure there was no non-disclosure or mis-statement at the time the policy was taken out. Subject to those basic checks, if he's the policy owner, he should receive payment of the sum insured".
There was not likely to be a situation like David Bain's compensation bid where, despite his being found not guilty of murdering his parents and siblings, the Government is yet to pay him compensation for serving 13 years in prison.
The Government required a higher standard of proof to pay compensation than insurance companies needed to pay compensation, Mr Burrowes said.
"If [the insurer] declined the claim, [Lundy] would, generally speaking, take it to court and have to satisfy the judge that on the balance of probabilities their failure to pay the claim was wrongful."