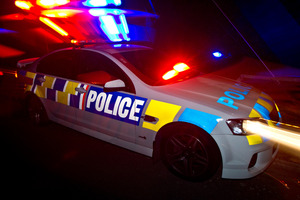 A man fled a crash scene in stolen police car while officers struggled to arrest a repeat drunk driver who hid in a bed at a nearby house.
The drama unfolded after a car crashed through the stay wires of a large power pole on Mahoe St in Hamilton about 7.15am today.
Inspector Paul Carpenter of Hamilton police said the car then crashed into bushes at the front of a property before rolling back down a driveway.
The driver fled the scene but bystanders showed police the direction she had gone.
Officers found her hiding in a bed inside the bedroom of a house on the opposite side of the road.
Mr Carpenter said the woman was known to the occupants, but was not an invited guest.
"As our staff struggled to remove the 30-year-old woman from the house and get her out to the patrol car, members of the public alerted them to a male passenger from the car who had gained entry into a marked patrol car and driven off."
The stolen patrol car was found 20 minutes later, undamaged, by Hamilton's Lake Rotoroa. There were no firearms or Tasers secured in the car's safe when it was stolen.
Mr Carpenter said a review would be carried out to determine how the offender, who has not yet been found, gained access to the patrol car.
The crashed car's driver was taken to the Hamilton central police station where she returned a breath alcohol test result of 807mcg - more than twice the legal limit of 400mcg.
Mr Carpenter said the woman was charged with dangerous driving and excessive breath alcohol - her third or subsequent offence.
"Investigators are meanwhile following lines of enquiry into identifying and locating the offender who took the patrol car."
Mr Carpenter said it was important to acknowledge the help the public had given police following the crash.
- APNZ