The small village of Atiamuri has never seen a major crime. Then out of the blue, almost three weeks ago an elderly roadworker was gunned down in cold blood, and police are at a loss to explain why. Natalie Akoorie visits the tiny settlement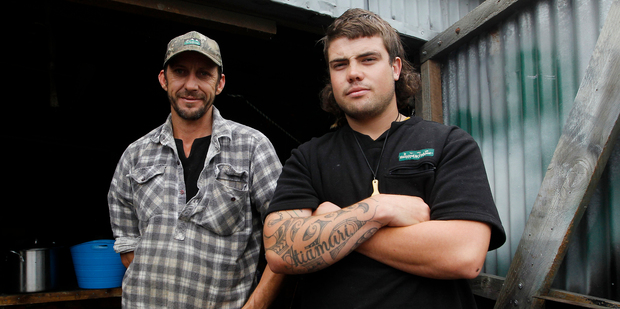 Except for the traffic on State Highway 1, Atiamuri is quiet.
There are two main streets lined with houses; 1950s weatherboard homes in varying states of dilapidation. That is "west Atiamuri" or the lower end.
"Upper Atiamuri" features a school and playcentre, some more expansive homes and plenty of farms.
It's a far cry from the once-bustling community it was, newly created to support the Atiamuri hydroelectric power station built in 1953.
In its heyday in the 1960s and 70s the village was home to 500 houses, a movie theatre, library, garage, recreation centre and even schooled 700 children.
The shell of the service station is still there, but now it's an odd-shaped house with a forecourt in front.
Beat-up old cars dot properties and the only sign of life is a stop-go controlled section of the highway near the new bridge, where there's a queue of traffic and the hubbub of roadworks.
Almost finished after more than a year, the Atiamuri Bridge is the reason George Taiaroa and his HEB Construction colleagues were working in the area on Tuesday, March 19, when the 67-year-old was fatally shot.
But it was at a different bridge that Mr Taiaroa lost his life.
Not far away, on remote Tram Rd, near the Kinleith Forest, Mr Taiaroa stopped a blue Jeep Cherokee about 3.10pm that day at the single-lane bridge.
He was then seen to fall to the ground. The Cherokee raced over the bridge and disappeared, leaving a waiting truck driver and family to perform CPR and call emergency services.
Now police are baffled by what motive the killer had for shooting Mr Taiaroa, a "devoted family man", a father and grandfather, whose children say didn't have a bad bone in his body.
In lower Atiamuri, a white letterbox is painted in red with the name McPhee. It's the home of Wayne McPhee's parents. Wayne and his son are in the shed, getting ready to go to work as farm contractors on a rainy Thursday afternoon.
"It's a shock to us anyway 'cos nothing like that has ever happened around here," Leon McPhee, 19, said. "Not a murder."
There was the taxi driver who was stabbed, but that was years ago.
"They reckon it was a mistake. They reckon it was meant to be the guy on the other side of the bridge," he said.
"It wouldn't be random," Wayne McPhee said. "There's two things. [Either] he's done something wrong and it's caught up with him or it was a mistake, it was the wrong person.
"And it's not a local that's done it. If it was a local they would have caught him by now, because it's a small place."
All the permanent residents, about 10 families, have been interviewed by police.
Atiamuri is a safe place, the McPhees say. Houses are left unlocked, keys in cars and sheds with boats and farming equipment stay open. "This is a quiet place. It's mostly just retirement houses and holiday baches. I hope they catch him just to put everyone's minds at ease, like the family."
Mr Taiaroa lived in the village but the McPhees didn't know him like some of the other HEB Construction workers they had befriended.
The pair drink at the Pukeko and Bull - or the Bull Ring, as they call it - where many of the roadworking gang live.
Owner Tina Schrider works the tavern, restaurant and lodge on her own most nights.
There are no customers this gloomy afternoon.
Mrs Schrider isn't that keen to talk about the tragedy.
She says served Mr Taiaroa breakfast, but that's all.
"I didn't have an intimate conversation with him or anything. He came for breakfast. Had his breakfast and left. He was a nice man. There's just absolutely no rhyme or reason to it."
Since the shooting the HEB construction workers had taken a week off she said, and received counselling.
"They're not allowed to talk to any media."
Maybe that would draw attention to how the shooting was able to take place, she suggested.
"You don't expect that sort of thing to happen in New Zealand but to have them very isolated where they can't even see each other, obviously they will have to change procedures. You just can't have people way out in the forest being so vulnerable, but you don't expect it."
The second "lollipop" controller working with Mr Taiaroa that day confessed his concern over the shooting to Mrs Schrider.
"I had the other guy that was up the other end come in a few days later and he was absolutely sh*****g himself that it could have been him.
"He's not sleeping at night and things like that. There but for the grace of God go I."
She had also heard that the driver of the blue Jeep Cherokee, which, oddly, had earlier tailed a farmer to the scene, talked to Mr Taiaroa for some time before the shooting. But that was just another rumour.
There is one thing everyone in Atiamuri agrees on. The killer has gone. He's not in the area, though he could be from towns just outside such as Taupo, Tokoroa or Mangakino.
"No one in the area feels threatened by it, because it just seemed to be such a random thing. It was either targeted or random but I'm sure the person that did it is way away from here."
And no one talking about the shooting in either Atiamuri or neighbouring Whakamaru has ever seen a blue Jeep Cherokee hanging around.
If they did, they would dob in the driver because the "mongrel" that killed Mr Taiaroa deserves a bullet himself, they say.
Mrs Schrider hopes police are closing in on the offender, though she is doubtful.
"They're not hot on the trail now, are they? I reckon if they don't catch him within the next few days, well, you know. Unless someone talks. Someone must know something."
That's what Detective Inspector Tim Anderson, the man charged with finding Mr Taiaroa's killer, is counting on.
At the Bay of Plenty Police district headquarters in Rotorua, Mr Anderson sits in a boardroom with a police spokeswoman and discusses the case with yet another reporter.
"I guess at this stage, it's fair to say it's still a mystery in terms of motive for the killing of George. We believe if we can unlock that motive we'll get a good understanding as to what type of person has committed this offence."
He's confident of resolving it, of catching his man - and he's determined never to give up.
"In my experience we only have to get lucky once. He has to get lucky every day."