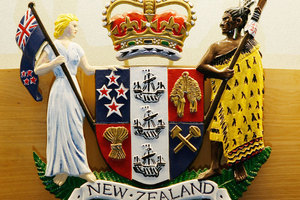 A dispute over buildings on Maori-owned land near Kaitaia left a man dead, who took a chainsaw to one of the structures, and one of his relatives charged with his manslaughter.
Gene Autrey Wright, 32, is on trial in the High Court at Whangarei, charged with manslaughter after the death of Sonny Werahiko Taylor in July 2011.
Crown lawyer Bernadette O'Connor said Wright went to Mr Taylor's property "to deal to him, to sort him out, to beat him up and as a result of that Sonny Taylor has died".
Mr Taylor, aged 53, and Wright's grandfather John Wright lived close to each other on a slice of multiple-owned Maori land at the end of Oturu Block Rd, north of Kaitaia. There had been a dispute between the pair over buildings going up on the land.
On the night of July 10, 2011, Mr Taylor took a chainsaw to try to chop the legs off a pataka - an elevated food store - John Wright had built near his home.
Mr Taylor's nephew Matthew Taylor, who also lived on the property, was there to hold the torch.
However, John Wright came out, armed with a rake, and a dispute broke out between him and Mr Taylor, with Mr Wright hitting him several times with the rake to get him to stop.
Police were called but the dispute was over by the time they arrived. The next morning, Gene Wright went to the property to sort the matter out, Ms O'Connor said.
Witnesses, including Wright's brother, would describe how Wright kicked in the door of Mr Taylor's home and went inside.
The witnesses then heard banging from inside the home and Mr Taylor calling for somebody to ring police, before Wright emerged, dragging Mr Taylor along, then punching him forcefully several times in the head.
Wright propped Mr Taylor up against a wall then threw water on him to rouse him. Mr Taylor slipped into unconsciousness. He died in hospital on July 12, 2011.
Ms O'Connor said a recording of a 111 call made by Matthew Taylor at the time would clearly identify Wright as saying to Mr Taylor "Cuzzie, you know you let this c*** keep doing this to my grandfather, you could be next."
She said a pathologist would say the cause of Mr Taylor's death was blunt force trauma that led to a brain bleed and it was the Crown case that Wright caused the fatal injuries.
Defence lawyer Doug Blaikie said a brain bleed was a progressive thing and it could take between 24 hours and three days to kill somebody after the trauma that caused it.
Mr Blaikie said John Wright hit Mr Taylor in the head area the previous night with such force that the rake handle broke twice.
In order to convict Gene Wright, the jury would have to know for sure who caused the injury that led to Mr Taylor's death, but the prosecution could not prove beyond reasonable doubt it was Wright, or the rake the previous night, he said.
The trial, before Justice Sarah Katz and an eight-woman, four-man jury, continues.
For more articles from this region, go to Northern Advocate