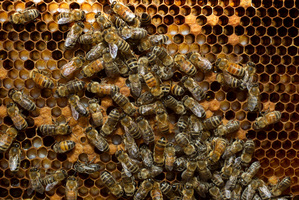 Hundreds of beehives are being stolen from Northland farms every year - and producers are being stung by the cost, an industry insider says.
A manuka honey farmer discovered this week that a dozen of his hives had been stolen in recent weeks, the latest in a string of similar offences.
Two farmers offered a total of $8000 in rewards for information about their total of more than 100 stolen and poisoned hives.
Hamilton-based producer Chris Cable today said that he discovered his hives in Northland had also been hit by thieves.
Whangarei Bee Club president Kevin Wallace said the hives, which produce high-quality and valuable manuka honey, were often stolen because they were not monitored 24 hours a day and it was not easy to police.
It costs farmers tens of thousands of dollars in replacing hives each year, Mr Wallace said.
Last month Justin Howes, 22, was convicted in Whangarei District Court for the theft of 87 hives worth $27,000 last year.
Howes was sentenced to 400 hours' community work and ordered to pay reparation of $7500 at $40 a week.
Mr Wallace said it was a rare conviction and often the investigation was too costly for police to invest time in.
Mr Cable, who discovered his hives were missing on Tuesday, said he worried potential thieves were encouraged by the suggestion they could cash in on manuka honey.
He said media reports that the honey was worth more than $400 per kilogram were over-inflated.
"It sends a message to the wrong sort of people that we can make a bit of money from having a few hives," Mr Cable said.
"It just sends the wrong messages and I really worry about our industry that it's going to attract the wrong sort of people who are going to get the wrong message."
Mr Cable said fly-by-nighters would create problems, including increasing the risk of disease, if they didn't manage hives properly.
Northland beekeepers John Whitehead, of Kerikeri, and Lindsay Guest, of Kohukohu, are offering $8000 in rewards for information.
Mr Whitehead wants information about the poisoning of about 80 hives on four sites near Broadwood while Mr Guest is pursuing the people who stole 17 hives and tipped over seven others at Skyline Hill.
Mr Whitehead said earlier this month that the poisoning of nearly four million bees in his hives was an inhumane act. "The bees were slaughtered and left as a stinking, rotting mess," he said.
Senior Constable Gavin Benney of Hikurangi police said black-market beekeeping was a lucrative business.
"There's massive money in it for the big-time beekeepers.
"Starting from scratch would take a while whereas if you were stealing beekeepers gear ready to go, you're skipping the initial start-up period."
More resources need to be put into investigating hive thefts and damages, Mr Benney said.
- APNZ