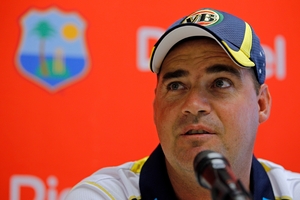 Sacked Australian cricket team coach Mickey Arthur claims a deliberate campaign has been waged against him in recent days but says he still hopes to settle his multimillion-dollar lawsuit by conciliation.
Returning to Perth from South Africa where he attended his mother's funeral, Arthur read a statement explaining why he'd launched his legal action against Cricket Australia seeking $4 million or his job back.
Damaging details of Arthur's case to the Fair Work Commission revealing divisions in the Australian team were leaked to the media last week as the team was preparing for the second Ashes test at Lord's.
Arthur was adamant the leak had not come from his side.
"Selective leaks by others have ruined my attempts to protect the Australian cricket team and everyone involved," he said in his statement. "As I've said, no one associated with me has played any part in releasing that confidential document."
Arthur said he had little choice but to take legal action after being sacked on the eve of the Ashes series and replaced by Darren Lehmann.
"After my dismissal, I received nothing in writing from Cricket Australia, no contact, and no payment at all, not even of my basic leave pay, until I was forced to bring in lawyers to assist in the process.
"I had tried on a number of occasions to make direct contact at a very senior level of Cricket Australia; for days there was just no response. I was really trying for a private resolution that would not have any collateral damage to the reputation of any of us, the Australian team, Australian cricket, or me. I thought, perhaps naively, that, under all the circumstances of my dismissal, Cricket Australia would be willing to have sensible and good faith talks in private.
"Sadly that hasn't happened."
Arthur noted Cricket Australia chief executive James Sutherland had acknowledged that, to an extent, he had been made a scapegoat.
"I find that a totally unfair basis to end my career," said Arthur.
"The damage to my reputation and career has been immense, which means the chances of me getting a senior job are that much less. I was truly shocked and devastated by my dismissal.
"I had received a positive appraisal on all my key performance indicators just prior to departing for the Ashes tour."
He was told that wayward batsman David Warner's off-field misconduct - punching England batsman Joe Root in a Birmingham bar during last month's Champions Trophy - had been "the last straw" for CA.
"I received no hearing at all over that issue, and no one was doing more to improve discipline in the young Australian team than I was," he said. "In spite of what has been a deliberate campaign against me in the past days, I am still willing to resolve this dispute on a fair and just basis."
He concluded by saying he hoped conciliation talks at the Fair Work Commission tomorrow would be productive, then he wished the Australian team well and declined to answer questions from reporters.
CA later released a statement in response to Arthur's comments. It says it stands by its earlier statements and disputes a number of claims made by Arthur.
"We will not be articulating these disputes publicly except to say that we are confident in our legal position, are comfortable with the level of support provided to Mickey and look forward to resolving this matter in an appropriate manner," CA said.
Embarrassment for Warner
David Warner has tried to distance himself from his older brother's Twitter outburst that slammed Australia opener Shane Watson.
A tweet from Steven Warner's @warnedog79 account on Friday lashed Watson for reviewing an lbw decision against him that kick- started Australia's terrible first innings in the second Ashes test at Lord's.
It read: "F***ing selfish Watson sooner your [sic] out if the side you great pretender the better."
The account was deleted at the weekend, but Steven Warner initially told Fairfax Media he was not responsible for the tweet and that he "wouldn't have a clue" who was.
David Warner then contradicted those comments, confirming his sibling had posted the message.
"Earlier this week, my brother Steven Warner published a tweet about Shane Watson. Like everyone, he is entitled to his opinions but I want to state categorically that I do not endorse his comments and fully support Shane and all my teammates," David Warner said.
In addition to criticising Watson, Warner also praised sacked coach Mickey Arthur, who has started legal proceedings against Cricket Australia.
Steven Warner was a New South Wales under-17 representative, touring England in 1996, but walked away from cricket.
He is a plumber by trade now working as a Virgin Australia baggage handler.
- AAP