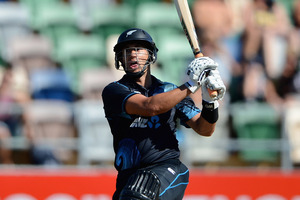 Black Caps batsman Ross Taylor has become the third foreign player to sign for the Caribbean Premier League (CPL).
Former Australian internationals Ricky Ponting and Adam Gilchrist have also committed to the new league.
The inaugural CPL tournament will be played from July 29 to August 26 by six franchise countries: Antigua & Barbuda, Barbados, Guyana, Jamaica, St. Lucia and Trinidad & Tobago.
The tournament falls during a break in the international schedule for Taylor and his fellow Black Caps teammate.
"I am very excited about playing in the first ever edition of the CPL," Taylor told Cricinfo.
"As current world champions, West Indies have been a force in T20 cricket over the past couple of years, and CPL should help uncover new international superstars in the mould of Kieron Pollard and Sunil Narine. The Caribbean is one of my favourite places to play cricket and with the passionate crowds, great atmosphere and the athletic style of play, I'm looking forward to being a part of this exciting competition."
Taylor also plays in the Indian Premier League for the Pune Warriors.
- nzherald.co.nz