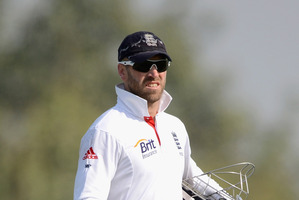 Put aside those 20 and 50-over lotteries. The core memory of the upcoming series against England will be whether New Zealand shows starch against an all-powerful England in the tests.
England might be ranked No2 behind South Africa but it hardly mitigates the task for New Zealand after capitulations in Cape Town and Port Elizabeth. The limited overs lead-up matches are sure to provide captivating contests.
The reality is those matches will be tapas to the main courses in Dunedin, Wellington and Auckland.
Bear in mind New Zealand only has one series victory in 17 at home over England. That came in 1983-84 when Jeremy Coney, Martin and Jeff Crowe and Ian Smith made their maiden test centuries and Sir Richard Hadlee topped the bowling averages with 12 wickets at 19.33. What would New Zealand give for five test centuries and a Hadlee-esque performance off the short run in March?
England, with their established spine of captain Alastair Cook, Jonathan Trott, Kevin Pietersen, Matt Prior, Graeme Swann and James Anderson, are entitled to swagger. They have just completed a test series victory (2-1 over four tests) in India, the first in 28 years. What's more, they had a new captain and came back from 1-0 down.
But maybe a swagger is unwise. England came to New Zealand as favourites in 1978 only to draw the series. New Zealand won their first test against the motherland at the Basin Reserve when England were dismissed for 64 in the second innings.
Former test bowler Jonathan Agnew has seen more live England cricket than most after 21 years as BBC cricket correspondent. He says this side are in their pomp.
"They've beaten India in a series at home. That is almost the ultimate accolade, a remarkable achievement for any side, which should send a shiver down Kiwi spines [New Zealand has failed to do that in 10 attempts]. The series proved Cook's credentials as a captain; and the captaincy didn't affect his form [he averaged 80.28, including three centuries].
"Kevin Pietersen is also in form [average 48.28 in India] and has been genuinely accepted back into the team.
"The attack is looking fit, apart from the injured Tim Bresnan. New Zealand will have their work cut out. They'll have to fight hard to avoid a clean sweep."
One area under watch is the second opening role, currently filled by Nick Compton. The 29-year-old replaced Strauss in India for his debut test series. He averaged 34.66, passing 50 once but with four innings between 29 and 37.
"He's not settled yet but he had several solid innings against India. He grafted pretty well. He worked [batting coach] Graham Gooch hard with his work ethic in the nets. Joe Root has also done well and is another option. He debuted at No6 in the final test at Nagpur but has grown through the grades as an opener."
Agnew also paid tribute to Matt Prior who played a key role resolving the Pietersen controversy when it was alleged he sent texts to the South Africans describing ways to get England players out. Agnew says not only is Prior the best test wicketkeeper/batsman in the world but he has galvanised the team.
"He's outspoken, lively and brash as a person but his behaviour in ringing Pietersen to take the situation by the scruff of the neck was typical."
Former test batsman Clive Radley made his debut in New Zealand 35 years ago. He missed the Wellington loss, debuted in Christchurch and scored 158 in his second test at Auckland.
He spent five years as a player/coach in Auckland from 1979 and was head coach at Lord's Nursery from 1991 to 2009.
Radley says the key observation for him will be the development of Root and Compton.
"Root is a quality player, he appears to have the right attitude and acquitted himself well in India [73 and 20 not out in his only test].Compton was a flamboyant batsman when he came on the scene at Middlesex after arriving from South Africa to go to Harrow School but he's changed into someone who can occupy the crease for long periods.
Radley says it is still an important tour for Cook to cement his leadership. "He has earned a lot of respect for his performances in India leading the test side for the first time. The players seem to regard him highly, but having a good side around helps. England can't take things for granted in New Zealand. I know the wickets have probably changed a bit, but I know how hard it can be to bat there at times."
Daniel Vettori has played in the last six test series against England. He was man-of-the-match in the most recent victory at Hamilton in 2008. An Achilles tendon injury is expected to rule the 34-year-old out of this series but, ever a student of the game, he has kept close tabs on what makes England successful.
"England have won plenty of series away from home the last few years [England have won three of their last four and last lost in the West Indies almost four years ago].
"Bouncing back from that first test loss to India showed character and they have seasoned veterans like Swann, Pietersen, Cook, and Bell who make such occurrences no fluke. In fact, they're incredibly balanced across all formats at present. I'll also be keeping a close eye on how James Anderson performs.
"The attack as a whole, most likely with Steve Finn and Stuart Broad added, will be interesting to observe but Anderson's performances swinging the ball in New Zealand conditions will be pivotal. He was a huge reason they won last time in combination with Ryan Sidebottom."