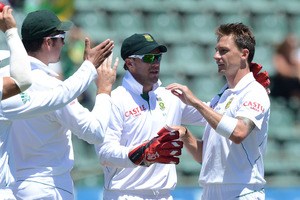 Nothing beat a bit of banter with an old mate, for South African speed king Dale Steyn.
When his former Titans team mate Neil Wagner came out to bat, Steyn didn't miss an opportunity.
Wagner had bowled a few short balls at Steyn during the South African innings.
It took Steyn just seven hostile balls to get his own back, dismissing Pretoria-born Wagner for a duck.
Told a microphone had picked up Steyn telling Wagner he'd best prepared to get dismissed twice in a day, Steyn denied he'd said that.
''No, I just said I'm 20kph quicker than you so you shouldn't bounce me," the world No 1 he laughed.
''But I've known him for a long time. It was a bit of banter between old mates. It's okay."
Having taken five for 17, the 19th haul of five or more wickets in a test innings, Steyn had the last laugh too.