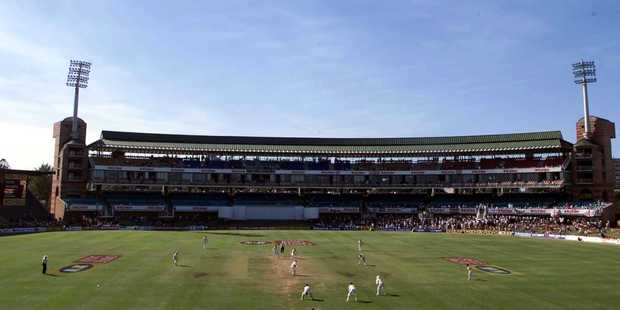 In one sense at least, New Zealand have lucked in on the test leg of their tour of South Africa.
That may have been lost on them after day one of the first five-dayer at Newlands in Cape Town.
But of all the test venues in South Africa, they have drawn the best two in terms of colour and personality.
Newlands rates among the game's best locations.
Overlooked by spectacular Table Mountain, it's among the most picturesque of grounds, with a nice mix of stands and grass viewing areas.
It was a shame, in more ways than one, that the match was over inside three days. Near-full houses on Saturday and Sunday would have rounded off a special occasion for the tourists.
Port Elizabeth has its attractions, in a slightly different sense. Perched on a hill close to the centre of the city, it is South Africa's oldest test ground, dating back to March 12, 1889, getting the honour a week before Cape Town.
Yet because South Africa tend to give first dibs in a home summer to Cape Town, Durban and either Centurion (just outside Pretoria) or the Wanderers ground (in Johannesburg), PE's chances have been limited.
Indeed, the test starting on Friday is the first at the headquarters of Eastern Province cricket since 2007.
There is a touch of faded grandeur about the old ground. Certainly it needs a lick or three of paint but the slightly ramshackle appearance, rather than detract from the location, adds something in terms of character.
There's an element of the rabbit warren under the main grandstand and other viewing spots sit in a slightly disjointed manner, rather than neatly interlocking.
Dig around and there is a New Zealand presence on the concourse under one stand. The walls are adorned with photos of old Eastern Province teams, including the Currie Cup-winning team of 1989-90.
Standing at the back of that celebrating group of players, which includes former South African test pair Kepler Wessels and Dave Richardson, is David Trist who played for New Zealand in the late 1960s, coached the national side 30-odd years later and did a successful stint based in Port Elizabeth in between.
One end of the ground is quaintly named the Duck Pond End.
A section of one of the older stands, around deep backward point on the ground, is the spot where the St George's brass band strikes up during play, all trumpets, trombones and other assorted instruments.
At other grounds it could be a distraction; at St George's Park, it's part of the fabric.
Then there's the Westering Methodist Church ladies group, who make burgers and pancakes beneath one of the stands, another of the traditions at St George's.
Sure, it's a bit of a mish-mash in some ways but there's nothing artificial about the place. What you see is what you get.
There are even two breezes which can sweep in from the Indian Ocean and give guidance to the captains at the toss.
If it's blowing from the southeasterly quarter, coming from roughly wide midwicket from one side of the ground, as sure as one can be it will swing, so think hard about inserting the opposition.
If it's coming from the southwesterly quarter, around third man, it's a drying wind so bat first every time.
This location should never be called a stadium.
It is a ground, chock-full of flavour. Just hope the players and the enthusiastic locals, many of whom turned up for a signing session with the South African players yesterday, get to experience the full five days.

New Zealand at Port Elizabeth
February 1954
South Africa win by five wickets
The most notable aspect about this, the fifth and final test of the series, was the run rate, or lack of it.
New Zealand's first innings 226, at a rate of 1.83 runs an over, was undercut by South Africa's 237 achieved at 1.81 an over. Wellington batsman John Beck's 48 was the highest score in the first two innings. There was a 73 from John Reid and 52 from Bert Sutcliffe as New Zealand got 222 - at 1.89 runs an over - and South Africa won comfortably reaching 215-5, at a hectic 3.40 runs an over, to clinch a 4-0 series win.
February 1962
New Zealand win by 40 runs
This win secured New Zealand's best overseas series result to that point, a 2-2 draw. Wellington batsman Paul Barton's only test century, 109, anchored New Zealand's first innings 275 and the bowlers collectively followed up by rolling their hosts for 190. Future national captain Graham Dowling (78) and his skipper, John Reid (69) pushed New Zealand out to 228 and a lead of 314. Reid's marathon performance with his aggressive medium-pace cutters produced figures of 45-27-44-4 as South Africa were dismissed for 273.
November 2000
South Africa win by seven wickets
Mathew Sinclair's fine 150 was the rock in New Zealand's first innings 298. No other batsman reached 40 as Allan Donald and Shaun Pollock picked up four wickets apiece. The test was effectively decided when South Africa, from 209-7, got through to 361 courtesy of a 136-run eighth wicket stand between century-maker Neil McKenzie and Nicky Boje. Current seamer Chris Martin, the only New Zealand survivor from that game in the present squad, took 4-104 in just his second test. New Zealand were then ground out for 148, opener Mark Richardson's 60 the only highlight. South Africa reached 89-3 to secure the victory.