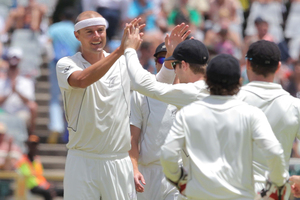 Senior seamer Chris Martin praised New Zealand's far better allround application after a much-improved day's test cricket at Newlands.
After the shocker on day one, when New Zealand were dismissed for 45 and bowled and fielded in ordinary fashion, there was considerable improvement today. The difference between the two days, he reckoned, was ''immense".
''The way we turned up with the ball was a lot better and more consistent, we dried up the runs which brought us five wickets," Martin said.
''That kind of set the tone for the way our batters have gone out and put up a much sterner fight today."
New Zealand were 169 for four at stumps, still trailing South Africa by 133 runs going into the third day.
Martin, New Zealand's third highest test wicket taker with 233 and in his 71st test, said there had been no ''harsh words" directed at the team after the first day shambles.
''Harsh words probably wouldn't have helped," he said.
''They (words) were quite reasoned, straightforward and a lot of the guys have put it to the side and will deal with it at another time. The best way to deal with it was shown by the way they applied themselves today."
Martin, who picked up three for 64 in the South African innings, said that New Zealand ''basically started our test today, which is not a good way to go about it".
''As far as pride and determination in the outfit, even though it's quite a young side, bar me, they definitely turned up today, stuck the chest out a bit more and got into the game."
In the hour after tea, captain Brendon McCullum and Dean Brownlie took the attack to the hosts, and rattled up 96 runs in 16 overs.
South African opener Alviro Petersen, who hit 106 in their first innings, put that down to ''terrible cricket" by his side. Three catches were dropped in the space of 12 balls, one by Petersen, and the bowling was looser than earlier in the afternoon, or the first innings.
''The bowling wasn't up to scratch; the catching wasn't up to scratch and for that hour or so it wasn't the standard we set ourselves," Petersen said.
Asked if an innings victory was South Africa's main aim, he replied that ''victory is top priority for us. It doesn't matter if it's by 10 wickets, nine wickets or an innings. We just play this game to win."