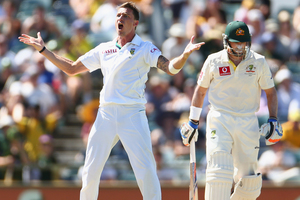 Former champion New Zealand quick bowler Shane Bond knows a thing or two about speed, and has now joined the club anointing South African Dale Steyn as the best paceman in the business.
Steyn goes into his 61st test, against New Zealand at Newlands on Wednesday, sitting on 299 wickets, taken at a cheap 23.79 each.
Three South African bowlers stand ahead of Steyn: Shaun Pollock took 421 wickets at 23.11; Makhaya Ntini 390 at 28.82; and Allan Donald bagged 330 at 22.25.
Combine Steyn with his pace chums Morne Morkel and Vernon Philander and you have the best fast trio in the business.
Philander is in doubt for the opening test with a hamstring injury, which is some small comfort for New Zealand's batsmen.
England's swing man Jimmy Anderson has his supporters for top dog among the faster men.
But Bond, one of New Zealand's best, and fastest, bowlers and now bowling coach of the national side, is unstinting in his praise for 29-year-old Steyn.
''He's the best fast bowler in the world hands down, in my opinion," Bond said.
''He gets five wickets per test. He's done it in all conditions. The batters know what to expect. From a bowling point of view all you can do is watch how he goes about his work."
Bond - who took 87 wickets in 18 tests at 22.09, his opportunities severely limited by injury - hopes New Zealand's fast-medium quintet of Trent Boult, Doug Bracewell, Chris Martin, Neil Wagner and Mitch McClenaghan make the most of a live viewing of how he does his business.
''The guys have seen what he's capable of. It's all there on the video.
''(Just as) there's no secret about how we're going to bowl to Jacques Kallis, Hashim Amla or Graeme Smith. The skill is to actually go out and do it."
Steyn has taken 45 wickets in eight tests against New Zealand at just 18 runs each, including 10 in each of two tests in 2007.
Now throw in beanpole Morkel, who has picked up 164 wickets in 45 tests with his hostility and awkward bounce since his debut at the end of 2006 and class seamer Philander, whose 12 tests have produced a remark able 67 wickets at 17.98, and you have a batting nightmare.
Bond reckons there is a message out of the less-pacy Philander's success, in particular.
''He doesn't give you anything. He (concedes) a couple of runs an over. We're always talking about looking for the guy who bowls at 90mph for New Zealand.
''Someone like Philander - and (now banned Pakistani) Mohammad Asif and (retired Australian) Glenn McGrath are the same - show you don't have to be 90mph to be effective at this level.
''It doesn't matter how fast you bowl. You need to be consistent, and that's one thing I've tried to get into our guys every time we train.
''Be more consistent, more accurate because at the end of the day that's what causes more problems for the top players."