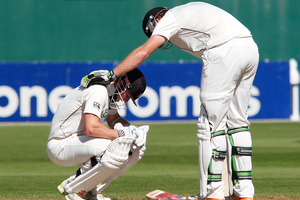 Sitting on a mantelpiece at Kane Williamson's house is a unique memento of a special day.
En route to a test-saving unbeaten century against South Africa at the Basin Reserve last March, Williamson took a painful blow on his protective box from star quick Dale Steyn.
Later, as he reflected on his coming-of-age 102 not out, Steyn came over for a chat and signed the piece of irreparably damaged equipment.
Williamson will take the memories of that day - both the eye-watering and the rousing - with him into the first test at Newlands, starting tomorrow night, when the pair will renew acquaintances.
It remains the toughest day's batting of his life "purely because of the nature of the bowling attack and on a wicket which was conducive to fast bowling with a bit of extra bounce".
It's worth remembering Williamson scrapped almost 5 hours and faced 228 balls to carry New Zealand to safety. He is gearing up for more hard days over the coming fortnight.
"We'll probably be faced with that, day in, day out. It's getting the head around that and going in with a clear mindset instead of being confronted with it and getting that shock," Williamson said. The Northern Districts batsman, not required for the T20 series which preceded the tests, is coming off his third test century, 135 in the win over Sri Lanka in Colombo last month. His average sits at 32.71 but will surely climb significantly in the years ahead.
He is preparing for his 19th test and has been an ever-present in the side since his 131 on debut against India at Ahmedabad late in 2010.
With Ross Taylor out of the South African tour, more seniority will be thrust on the 22-year-old Williamson.
He's not about to rest on either the Basin Reserve innings, or the Colombo ton last month, for that matter.
"Although you take confidence from that it's extremely important that when you go out your game is still in order and you're making good decisions every ball," he said.
"Past performances don't mean anything if you go out in the next match and make a bad decision." Setting aside issues of technical prowess, New Zealand will need to be mentally strong if they are to challenge the world No1 side this month. Williamson maintains how players go about that is a personal rather than collective matter.
"Some people might be very calm, others like to get in the fight," he said.
And in which category does Williamson belong?
"I believe I work quite hard and like to put myself under pressure. But in the middle it's important for me to stay very clear, keep it simple and let my game play and instincts flow."
Where some might, privately anyway, feel a degree of trepidation about what lies ahead for world No8 New Zealand, don't count Williamson among them.
"To be exposed to this South African side, and with a lot of good cricket coming up," he said, "it's a great learning exper