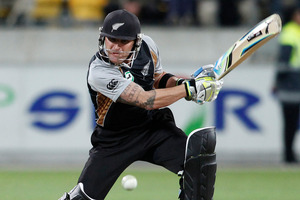 Brendon McCullum's elevation to the New Zealand cricket captaincy and Ross Taylor's demotion has raised debate as to how much playing ability correlates to leadership.
The bubble in which teams work - from hotel to practice facilities to dressing room to field-of-play - comprises almost hourly scenarios to test team dynamics.
Aside from captains keeping their form intact watching the ball, aiming at the top of off-stump or walking in with the bowler, they need to show resolve, debate tactics, compile batting and bowling plans, assess body language, display empathy and generally set the tone for how the team conducts itself.
Taylor is unquestionably the country's best current cricketer but the shenanigans over his captaincy - amid the wider New Zealand Cricket pantomime recently - has raised questions as to what makes a cricket leader.
History suggests some of the best captains did not lead from the front, at least in the averages.
Other legends of the game had less success when it came to marshalling team-mates.
LED MORE WITH THEIR HEADS
Mike Brearley (England)
Scholarly with a common touch, Australian fast bowler Rodney Hogg described him as having "a degree in people". Renowned for composure in all circumstances.
Mark Taylor (Australia)
Quality opener and first slip but respected equally as an astute tactician and selfless team man. Besides, it's hard to hate anyone known ubiquitously as 'Tubby'.
Jeremy Coney (New Zealand)
Melded a sometimes dysfunctional team into a unit which beat Australia and England in series for the first time and drew with the then-dominant West Indies.
Darren Sammy (West Indies)
A revelation leading the Windies to their first world title in 33 years at the World T20. A relaxed, gregarious cat ... just what the Caribbean dressing room needs.
Arjuna Ranatunga (Sri Lanka)
A national hero for taking his side from weaklings to 1996 World Cup winners and baiting Shane Warne. Expert at absorbing criticism to protect team-mates.
LED MORE WITH THEIR HANDS
Ross Taylor (New Zealand)
His bat secured a rare test victory for New Zealand in Colombo. Subsequently we learned it was while he faced a demotion in at least the limited over formats.
Brian Lara (West Indies)
The classic example of leading with the bat but could not do so elsewhere during three terms. Leadership descriptions ranged from erratic to inspiring.
Sachin Tendulkar (India)
Arguably the biggest icon of this cricketing age, he could not get the best out of his charges in two tenures, despite being a valuable lieutenant to Ganguly and Dhoni.
Ian Botham (England)
Produced his Headingley batting masterpiece the test after being axed as skipper during the 1981 Ashes. Struggled to communicate his self-belief to the rest of the XI.
Shaun Pollock (South Africa)
Victim of circumstance. Succeeded Cronje, started well but drew wrath when beaten 3-0 by Australia in 2001-02 and missed home World Cup finals in 2003.