Chairman challenges former international players to volunteer for role on new board.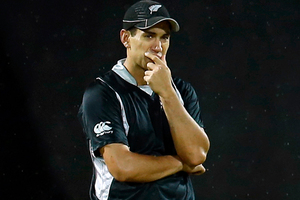 Former New Zealand cricket captain Ross Taylor last night accepted chairman Chris Moller's apology and said he was keen to rejoin the team when it was appropriate.
"I appreciate the apology from NZC today. Keen to put it behind me and looking forward to getting back with the team soon," Taylor tweeted.
Earlier, Moller challenged former players to step forward and volunteer for a role on a new board as the fallout from the Taylor captaincy saga continued.
Moller spoke to media yesterday for the first time since Taylor was replaced by Brendon McCullum as New Zealand captain and Taylor's subsequent decision to opt out of touring South Africa.
While little new was offered over Taylor's sacking, other than a cryptic message that "additional material" had come to light - Moller refused to comment on the nature of the material - although he did apologise to Taylor over the handling of the messy affair.
This came after a board meeting on Monday that spent five hours discussing the fiasco, while coach Mike Hesson was also quizzed on the matter.
"The board has reviewed all aspects of the captaincy issue and wishes to publicly place on record its apologies to Ross Taylor and his family for the manner in which events have unfolded," Moller said.
Moller also said during the lengthy press conference that Martin Crowe's resignation as a national talent scout came before the captaincy saga was played out and that no one would be sacked, including Hesson and chief executive David White, because of the way Taylor's axing was handled.
"Could we have done things better? Absolutely. Are we going to learn from those mistakes? Well, we hope so. Is there any reason for anybody to have their heads taken off? No, and that is a decision the board has made."
Despite the concession it was a botched process, Moller insisted the board "took the correct decision" to support a captaincy change.
The board could have an entirely new look by the end of the summer as NZC considers a new constitution and Moller welcomed former players to step forward.
Many former internationals have been vocal in their condemnation of NZC and some have called on the board to resign.
New Zealand Cricket undertook an independent review of their governance last year and are likely to implement changes that would see the board made up of six elected and two appointed members rather than eight elected positions and that candidates should be able to self-apply rather than require a nomination. That would see the dissolution of the current board and a new one established - the current members would need to re-apply - and Moller suggested the end of the summer was a realistic timeframe.
"Once the special general meeting has been held and a new constitution adopted, I challenge former international players to put their names forward for a voluntary role as a director of New Zealand Cricket and go head to head through the appointments panel process with other candidates so that cricket in New Zealand can have the best possible board for its national body," Moller said.
Moller is a former chief executive of the New Zealand Rugby Union and pointed out that numerous former All Blacks sat on the board during his time. Unlike NZRU board members who earn about $33,000 a year, NZC board members are unpaid. APNZ
- APNZ