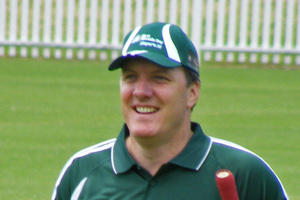 The prospect of New Zealand Cricket successfully engaging in an American Twenty20 league next year looks bleak.
A three-week tournament is set down for June and July on artificial pitches in New York. The indications are it will struggle to attract big players. Interest in bidding for the six franchises has been minimal. It would take place after the Champions Trophy in England but coincides with The Ashes, ruling out top test players from Australia and England.
Cricket Holdings America (CHALLC) - a company with the US governing body (USACA) and NZC as shareholders - had hoped to sell each franchise for around US$40 million ($48 million) with the addition of a US$1 million ($1.2 million) annual retainer.
The Herald on Sunday understands a presentation was given to more than a dozen potential franchisees in Chicago in early September, representing various metropolitan regions.
The attendees were all flown and accommodated at CHALLC's expense.
They were told applications would be accepted until mid-November, with that deadline then extended to December 1. There were expressions of interest from India and Britain.
After discussions among themselves, the Chicago attendees agreed that the valuations were too high. They didn't believe the American cricket market justified more than a 10 per cent investment of the original US$40 million figure.
Rather than send individual letters of rejection to CHALLC, the group collaborated on a single effort, detailing their non-interest.
CHALLC may now have to lower its recruitment sights to players from second-tier countries such as Afghanistan, Ireland, Scotland and Kenya - which defeats the purpose of a process which has tapped into the star power of actors Hugh Jackman and Russell Crowe to sell cricket to Hollywood, mimicking the celebrity-endorsed Indian Premier League.
American cricket followers might at least witness New Zealand's best players in action. They are likely to be leant on to sign, given NZC's shareholding and investment of intellectual property in the enterprise.
The escapade hasn't been helped by a barrage of lawsuits against the USACA. Funding has been buried in defence expenses from a debate on who has the rights to run the game, rather than development.
It has prompted the odd dry observation that at least the American legal fraternity has learnt about the game of late.
CHALLC has a number of factors in its favour. The International Cricket Council and Federation of International Cricketers Association are useful backers. ICC research suggests there are 15 million American cricket "supporters". Many are part of expatriate subcontinent and Caribbean populations. That compares to the size of the cricket fan bases in Australia and South Africa. Cricket website cricinfo.com also gets its second most hits through the US.
Given NZC is not investing direct cash in the venture, it is potentially a smart business strategy. NZC could earn revenue from negotiating future broadcast deals within the US. The alternative is continuing to be restricted to selling matches from home while the likes of India, Australia, England and South Africa benefit from deals like the Champions League.
CHALLC's chief executive Neil Maxwell, 45, is regularly touted as a cricket visionary. He is a former Australian first-class player who had a season at Canterbury when he was marketing manager for NZC from 1996-99.