With John Wright's defection as coach this year, the umbilical cord to the '80s has been severed. Many of the team who did so much to cement cricket's popularity have struggled to restore the lost lustre as players and coaches.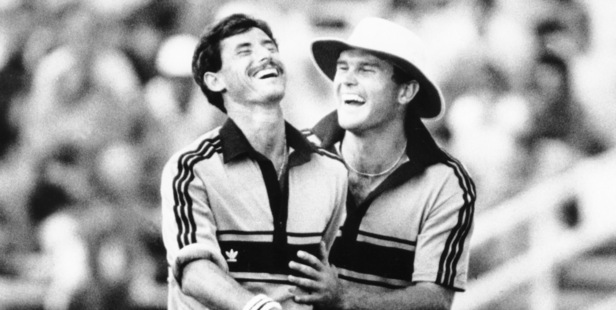 New Zealand was in the market for new sporting heroes.
The public had grown weary of the collection of taciturn giants whose demeanour was the same colour as the All Black jerseys they wore. Television was injecting colour into sport and Australian media mogul Kerry Packer was injecting money.
The mighty West Indies, including the feared fast-bowling Four Horsemen of the Apocalypse were en route.
Yes, New Zealand needed new heroes and into the breach stepped our cricketers.
It was an unlikely love affair. New Zealand had produced the odd champion - Stewie Dempster, Jack Cowie, Bert Sutcliffe and John R. Reid - but throughout history we had stubbornly remained the bottom-feeders of international cricket.
Under the urbane leadership of Geoff Howarth that changed. It wasn't gradual, but an almost instantaneous, beige-coloured transformation from easybeats to respectability.
At home in Motueka, a young kid who had already started to dream big watched with interest.
"It was a very interesting moment in time in New Zealand's evolving collective psyche," recalls Tony Blain. "The team became kind of folk heroes, really, even if our memories of them are boosted by nostalgia and rose-tinted glasses."
Blain, who played 11 tests and 38 ODIs, would grow up to live in the shadow of Ian Smith, a man he rates as New Zealand's finest keeper, and be overtaken by the precocious Adam Parore, but like all good keepers he never lost his powers of observation.
When selected for the tour to England in 1986, Blain got to see how the team ticked. By then Howarth was gone and behind the veneer of semi-professionalism and mateship, Blain said the team teetered on the edge of dysfunction. "It was a very odd do at times," he recalls of the tour, where New Zealand won the test series 1-0.
One of the young players, he says, was so disillusioned by his lack of success and the prevailing atmosphere that he travelled alone in the kit van.
It was a sign that the good times were about to end, as stories of disharmony in the ranks surfaced in the second half of the 1980s.
Another former test wicketkeeper, Warren Lees, whose 21-test, 31-ODI international career ran from 1976 to 1983, raised an interesting point: "Does success breed team spirit or does team spirit help you win?
"In about 1986, like a lot of marriages, they fell out of love. They'd been in each other's pockets too long and needed a gap," he said.
"You also had people in that team then who were disgruntled with their lot. They lost the point a bit.
"It needed people to be a bit more tolerant and patient of each other and more helpful to new players. From '85 to '87 it was about as good as it was going to get, then they all got tired."
Lees, who took over as national coach in 1989, remembers that "about 1987 the older ones were due to move on, and then New Zealand Cricket was shown up for its weak first-class programme".
So Hadlee, John Bracewell, Ewen Chatfield, Martin Snedden, Smith and Jeff Crowe, who had been mainstays for the bulk of that decade, were gone in quick order, leaving gaping holes.
"The fact they captured the public's hearts more than any other side was, I think, largely due to timing," Blain says. "One-day cricket was in its infancy and, like T20 now, gave a shot in the arm for the game.
"The 'Underarm' game and the Windies tour sparked genuine controversy that turned into box-office gold. And of course Sir Richard was in his pomp - a worldbeater from '85 to '90 - and Crowe's batting was the equal of Paddles' bowling. "
It helped, too, that the All Blacks were not an attractive side on or off the field. Their charmless countenance was off-putting to an increasingly urban populace and burgeoning chattering class. Cricket, like the 1981-82 World Cup All Whites, would benefit greatly from the 1981 Springbok tour and its ugly divisions.
"The thinking man's sports fan was pleased to have a team to celebrate other than an unsmiling bunch of farmers and freezing workers who bashed the crap out of tubby Welshmen and inept Aussies," Blain says.
Rugby was a sport trying desperately to stay in the dark ages, resisting change at every turn; cricket was a sport forced into modernity by Packer's money and broadcasting savvy. In one of those serendipitous sporting intersections, New Zealand finally had a team that was ready to take advantage of the sport's boom.
A few New Zealanders were making a living on the county circuit, including Glenn Turner (in international exile at the time), Howarth, Hadlee and the Johns (Parker and Wright), but most were amateurs.
"We remember the '80s team nostalgically because they were mostly amateurs," Blain says. "They were courier van drivers and schoolteachers, gravediggers and bank workers. They played club cricket and Hawke Cup matches, practised on Tuesday and Thursday and got pissed on Bavarian on a Saturday night.
"I don't think the sporting public feels the same personal connection to their heroes now. And the window in time that Hadlee and co occupied, with a mix of Dad's Army daring and occasional world-class brilliance, is remembered very fondly by many."
Not so much by future generations of players, however. They can be surprisingly scathing in their assessments of the men who paved the path for them to follow. They talk of the "80s mafia" and the "In-my-day Club" with little affection.

Howarth was the first captain who broke down the inferiority complex that had hounded New Zealand cricket. But the elegant, if under-achieving right-hander's legacy has been tainted. A series of autobiographies published since revealed him to be an awkward leader.
He returned as New Zealand coach in the early 1990s and by any measure it was a disastrous tenure, resulting in the ill-fated sex, drugs and rock'n'roll tour to South Africa in 1995.
In this respect, Howarth illuminates a harsh truth: many of the '80s heroes have failed to restore New Zealand cricket to its halcyon days, either as coaches or administrators.
Howarth's reign ended in ignominy, as did Turner's second stint as coach.
John Bracewell and John Wright led their teams to World Cup semifinals, but test performances dipped alarmingly under their watch.
Hadlee was a long-time selector, as was Turner, whose perceived lack of empathy (he has been re-employed by NZC as a talent scout) continued to rub players up the wrong way. Martin Snedden was chief executive as New Zealand moved into the era of players' associations and fulltime professionalism.
To be uncharitable, you'd say that the same players who did so much to instil pride and performance in New Zealand cricket, had their fingerprints on its fall.
Lees disputes that. "That's too simplistic. I think there was a lot more to it than that," he said.
He believes players retired and left the game with chips on their shoulder and makes the point that just as the best players don't automatically make the best captains, so it follows that the qualities which made them top-class players aren't necessarily those suited to leadership roles off the field.
"The best players hardly ever make the best coaches. They've been selfish since they were 15, so they've been poor communicators for 20 years. You can't learn communications in a crash course.
"The best captains and coaches normally come from rank-and-file players who've had to work at their game."
There's one thing the '80s' heroes have all over their fully professional counterparts.
They might have been van drivers and gravediggers, but they looked like they were working hard for every scrap of cricketing success that came their way.
They might have fallen out of love with each other, but they never fell out of love with success.

The series
Monday: NZC's disconnect with the sport's fans, and is this NZ's worst era?
Tuesday: A damaged brand, and the media's love affair turns sour.
Wednesday: A healthy grassroots, but a lack of Maori and Pacific Island engagement.
Thursday: A malfunctioning high-performance set-up, and the lack of suitable infrastructure.
Yesterday: Franchising domestic cricket, and a transtasman T20 league.
Tomorrow: In the Herald on Sunday, we look at the Taylor fiasco as a symbol of NZC's sorry state, tell you what the players get paid and find out how the team of '99 pulled themselves out of the mire - and how it might apply to the class of 2012.