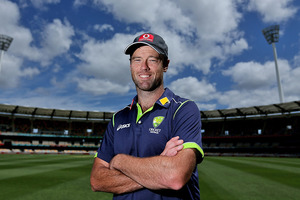 The mystery of the No.3 spot in the Australian Test batting line-up has finally been solved - for now.
Australian captain Michael Clarke says he has every confidence in debutant Rob Quiney at first drop ahead of the three-Test series opener against world No.1 South Africa starting at the Gabba today.
But it remains to be seen whether the veteran Victorian left-hander will continue on to Adelaide later this month for the second round in the heavyweight battle for the world No.1 Test ranking.
More than a year after Ricky Ponting made way for Shaun Marsh at No.3, Australia has gone through three batsmen in the pivotal position - and Quiney now makes it number four.
It's a trend that does not look like changing with the line-up potentially receiving another make-over, with injured allrounder Shane Watson expected to be fit for the second Test at the Adelaide Oval.
In fact, Clarke admitted he contemplated slotting into the No.3 vacancy created by Watson (calf) ahead of the showdown with a lethal Proteas attack, spearheaded by the world's best bowler Dale Steyn.
Clarke said he consulted batting coach Justin Langer and the leadership group about whether to elevate himself or fellow veterans Ponting or Mike Hussey to first drop, before Quiney was given the nod.
"We think at the moment Rob is best suited to No.3 for this Test match and hopefully he performs really well and grabs hold of this opportunity," he said.
"It doesn't bother me where I bat and I know that Ricky and Mike Hussey are in the exact same boat.
"They're not bothered where they bat - it's where they're best suited for the team.
"We thought our middle-order played really well together last summer and we're looking to do the same again.
"I really hope Rob grabs that No.3 position with both hands and owns that No.3 position for Australia."
Former captain Ponting still looks set to play a major role in the first Test with Watson sidelined - and not just at No.4 in the batting order.
He is expected to take over if the Australian skipper leaves the field at the Gabba even though an official vice-captain was curiously not named this week following deputy Watson's withdrawal.
That didn't stop Clarke throwing out a few red herrings ahead of the first Test.
"I'm sure if I go off the field there will be somebody there who can do that but at this stage we haven't officially appointed a vice-captain," Clarke said.
"There's plenty of guys. Mike Hussey, Ricky Ponting, Matthew Wade stands right beside me when I'm at first slip as well so we've got plenty of options there."
But Cricket Australia CEO James Sutherland was more direct.
"I think it is reasonably obvious who the vice-captain would be," he said.
Asked if it was Ponting, Sutherland said: "Yep, but ultimately that is a decision for Michael - I think that is what the understanding is."
- AAP