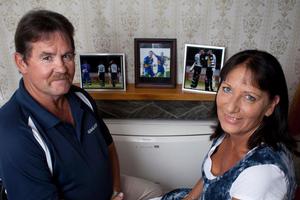 While Jan McCullum and her husband Stu had no problems encouraging their sons Nathan and Brendon to get outside and enjoy their cricket, it often came at a cost.
The young Dunedin boys, who last year became the 10th set of brothers to represent New Zealand in cricket, would play the game religiously with their mates in their backyard or on their St Kilda street - often until after dark.
But in trying to emulate their heroes, who included their dad, himself a former Otago opening batsman, the pair would sometimes incur the wrath of their parents or those next door.
"There were a few broken windows, actually there were quite a few and not just at our house," said Mrs McCullum.
"But we had a very good friend who would go around and replace the windows.
"Of course we'd end up paying for them but it also helped that we had very understanding neighbours."
The McCullums were among the AMI Stadium crowd on Sunday who were peppered with sixes - most of them from Brendon's bat after he blasted a scarcely believable 116 off 56 balls against Australia.
The Black Caps levelled the Twenty20 series against their transtasman rivals thanks largely to their son's batting carnage and Tim Southee's bowling heroics at the death.
Mr McCullum said the win would boost the Black Caps' confidence for today's first one-day international at McLean Park in Napier, despite the return of skipper Ricky Ponting and the in-form Shane Watson.
"Christchurch was a hell of a game to watch but the one-dayers are a different game," he said.
"There is a bit of confidence there now in the whole team so hopefully they will go well there."
Asked if Brendon had given his older brother a hard time about not getting him on strike in the 20th over to give him the chance of cracking Chris Gayle's highest score of 117 in Twenty20 internationals, Mr McCullum could only laugh.
"He [Nathan] probably hasn't apologised but I think Brendon would have been the first to say the team result comes first and the fact that Nathan hit a four and a six off two of the deliveries probably made a bit of a difference as well," he said.
"I think both of them would have been of the opinion that the team comes first."
Mr McCullum said he had rarely discussed the controversial ramp shot with Brendon but while it was producing runs he was happy for him to keep playing it.
"There will be times when he gets out but at the moment he's been successful with it and it is a great way of exploiting the field."
Mrs McCullum said she did not fear for her son's safety despite playing the risky - and dangerous - shot against Shaun Tait, arguably the world's fastest bowler.
She said seeing her two sons representing their country in the same match was something special.
"[Seeing] your son out there with his older brother, both of them doing so well, it's hard to describe it, really."
What to watch:
* Black Caps v Australia first ODI
* McLean Park, Napier
* Today at 2pm