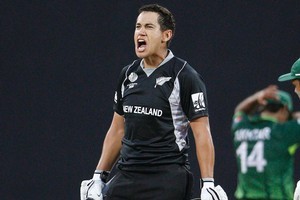 The children's television show Sesame Street could use the New Zealand cricket team as an example in its "one of these things is not like the others" segment.
India, Pakistan, Sri Lanka ... New Zealand - how has this beleaguered team, who lost 11 consecutive one-day internationals on the subcontinent late last year, made the World Cup semifinals alongside three other teams groomed in such conditions?
Before getting Mr Snuffleupagus on the case, the New Zealanders have not looked perfect; the whole performance against Australia and the batting against Sri Lanka in group play attest to that. But they have produced two gems when it counted against Pakistan and South Africa.
To put the achievement in context, none of their five previous semifinal appearances have been on the subcontinent.
It is unfair to attribute all the improvement to new coach John Wright. Certainly he is a catalyst but the ability of the batsmen (notably Jesse Ryder, Ross Taylor and Kane Williamson against South Africa) to step up has been crucial.
More of that is needed.
New Zealand had parity restricting Sri Lanka to 265 in Mumbai but the batsmen faded.
Brendon McCullum shapes as a key performer. Having executed strongly against Kenya, Zimbabwe and Canada he has scores of 16, 6, 14 and 4 against current test-playing nations. He analogised recently about not dying with any bullets left in the chamber. Let him pull the trigger with more caution here.
The bowling unit, twice in the absence of Daniel Vettori, has delivered better than expected. They have been backed by arguably the best fielding team in the competition, led by Martin Guptill. The coaching panel of bowling mentor Allan Donald and field marshall Trent Woodhill also deserve commendation.
Making the World Cup final would not only be a precedent for New Zealand cricket but it would signal one of sport's great instant turnarounds. Another win in the final would give their achievement enigma status on a par with Ian Botham blasting the 1981 Ashes into England's favour or VVS Laxman and Rahul Dravid reigniting India's fortunes in the follow-on test against Australia in 2001. It would be cricket's version of Extreme Makeover.
Vice-captain Ross Taylor says their efforts on the subcontinent late last year lulled other teams into a false sense of security. "I don't think a lot of people gave us a chance, which probably made teams take us lighter."
Taylor says success against Sri Lanka comes down to dismissing the top four early.
"They've got a similar balance to South Africa; a semi-long tail with a few all-rounders. It puts pressure on their top four. We got two early wickets in Mumbai but the Jayawardene/Sangakkara partnership was the difference."
For all the Pollyanna positives about the New Zealand team, one darker driver has been anger. Some might call it passion but every so often, in scenarios such as the AB de Villiers runout, the controlled aggression erupts. This has enhanced performance for the most part, although one suspects if it permeates the batting line-up tonight, the television coverage is likely to feature several close-ups of Muttiah Muralitharan's beaming smile surrounded by high-fiving teammates.
Taylor says aggression can still be expected. "We play a game which might be non-contact, but there's still a lot of emotion. We are probably seen in some quarters as the 'nice guys' of world cricket but we want to be aggressive within the spirit of the game.
"It's nice to show not only team management but the people in New Zealand that we really do care about playing for our country."