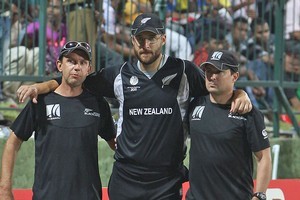 New Zealand cricket captain Daniel Vettori will continue to play at the World Cup after scans revealed he has suffered a ligament strain to the inside of his right knee while attempting a catch in the win over Pakistan.

MRI scan evidence and the advice of a surgeon recommended by the Indian cricket board indicated Vettori is likely to be back playing within five to ten days. He will miss Sunday's match against Canada but could face Sri Lanka next Friday.

There were concerns he had ruptured his posterior cruciate ligament but it is a mild strain.

Vettori left the team's Taj Mahal Hotel on the Mumbai waterfront with New Zealand physiotherapist Dayle Shackel and Brendon McCullum. McCullum presumably went as support, but is also likely to have had his knees looked at. He has been experiencing some pain of late, particularly wicketkeeping.

Vettori had his range of movement tested by the surgeon but - walking to and from the hotel - he looked visibly better compared to yesterday. He wore a bandage and some strapping on his knee for support. That will become a brace went he returns to play.

"The crucial thing is I'm able to continue in the tournament," Vettori said.

"It's about the symptoms now. The sooner those dissipate, the quicker I can get back. The treatment involves having a lot of rest. The knee has been a bit stiff and sore but has felt better today."
.
He said Shackel allayed the initial fears on the night that his tournament - and ultimately captaincy of the Black Caps - had ended.


"As soon as I got back to the shed, Dayle ruled out most of the real problematic injuries that come with knees. I took confidence from that. The fact Pakistan were 40 for five also made it easier not to return."

He has been careful to avoid overestimating his time out of the side, having been accused of being a hypochondriac in the past.

"I've had a few of these things and didn't want to raise the alarm because I've turned around and recovered 12 hours later. I rolled my ankle in Sri Lanka once and I thought I was going to be out of the game for life. I played the next day so I tend to not bring those things up. The team tends to do that for me," he laughed. "I really want to play in that Sri Lankan game heading into the quarter-finals."

Fellow left-arm orthodox spinner Luke Woodcock is the obvious choice to come in for Sunday's game against Canada.

"We will have a hard look at the wicket because there have been no games in Mumbai yet. [Hamish] Bennett and Woodcock are the options depending on whether they want to replace me with pace or spin. We will weigh that up on whether the wicket suits," Vettori said.