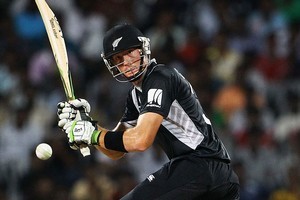 The beauty of a Cricket World Cup is that almost anyone can win it. It's one of those formats where if you reach the quarterfinals then it's just one-off games from there. However first the Black Caps have to reach the second round which is no guarantee.
With the form they've shown lately they'll have to be at the top of their game just to get out of the group phase. For some reason they just haven't been gelling but there's no doubt they can win it. But they'll have to play out of their skin to be able to do that.
After a poor run at home getting out of New Zealand is probably the best thing for the side. They're away from everyone here who has been on their back after the way they have been playing and some of that must be blamed of the attitude taken during the recent Pakistan series.
The side was chopped and changed and too many players were tried in different areas. I firmly believe going into a World Cup you want to try get your best team out on the park, into some form with some wins under their belt because that gives everyone a big boost and I think we missed the boat a little bit there.
New Zealand as a whole, when we play our best cricket everyone's in the positions they are best comfortable with and they know what's expected of them in that position because they've been there numerous times.
As a batsman you also want to have form under your belt, you want to know your game is together and you want to go out to bat with confidence. At the moment probably bar Jesse Ryder and to a certain extent Brendon McCullum, because he is that sort of guy, and Martin Guptill - there are a few question marks over the team and how they're feeling over their actual game. A lot of them haven't had much time in the middle and there's no substitute for actually getting out in the middle and batting.
Looking at the squad it's a pretty even mix despite lacking an out and out pace bowler and I think our bowlers can certainly do a job in the sub-continent. It was a very smart move, whoever did it, to get Allan Donald on board, purely for the fact the he knows how to reverse swing a ball which over there is going to be a big weapon on those flat wickets. That will be key for our guys.
To go to a World Cup is huge for any international cricketer and probably even more in India because that is the hub of world cricket which everyone knows now with all the cricket they play and the IPL.
The guys are going to play in some amazing packed houses and the passion that the people have got for cricket over there will add to it. There is always the added bonus of the pressure and trying to do well over there personally and for the team. In a way the way the guys have been playing here it might actually ease the pressure. As a nation we might not be expecting too much and they might play a bit more freely and think 'oh well we've got nothing to lose here'. They'll thoroughly enjoy it and to play in India in a World Cup it will be awesome for them.
When it comes to picking a winner I can't go past India and Sri Lanka who both have the spinners and their batsmen will be used to the conditions and for some reason I have a gut feeling South Africa are due. They've got a good team, they're playing well I think they might do alright in this tournament.
There are also bound to be some shocks. Bangladesh will no doubt upset someone, especially since they are playing in conditions they'll be used to.
- Former Black Cap Nathan Astle was talking to nzherald sports editor Cameron McMillan